Drama as MP Heckled For Accusing Sonko Of Ferrying Drugs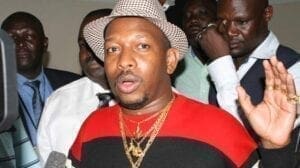 There was drama at Dagoretti High School after a section of the parents attending a fundraiser at the school heckled area Member of Parliament Dennis Waweru after he claimed that the Sonko Rescue Team is funded by drugs money.
A section of the parent were opposed to the statement saying that the Sonko Rescue Team has on several occasions bailed them out including in the payment of school fees.
The Dagoretti South Legislator accused the Nairobi Senator of running a parallel government to rival that of Governor Dr. Evans Kidero who has ordered for immediate seizure of the Sonko Rescue Team vehicles saying that they have been operating without licenses.
The MP further alleged that the ambulances operated by the team, which was formed and is funded by the Nairobi Senator Gidion Mbuvi aka Mike Sonko, are used to ferry drugs in the name of providing services to the needy.
Mr. Waweru further questioned the source of Sonko's money saying that the Senator needs to support the Governor if Nairobi's development plan is to be achieved.
However, a section of the parents disagreed with him saying that the Nairobi Senator has been proactive in offering services to the needy in the county.
-citizennews.co.ke