Uhuru and James Bond's Tailor is in Nairobi To Take Orders for His Sh3 Million Suits

Uhuru and James Bond's Tailor is in Nairobi To Take Orders for His Sh3 Million Suits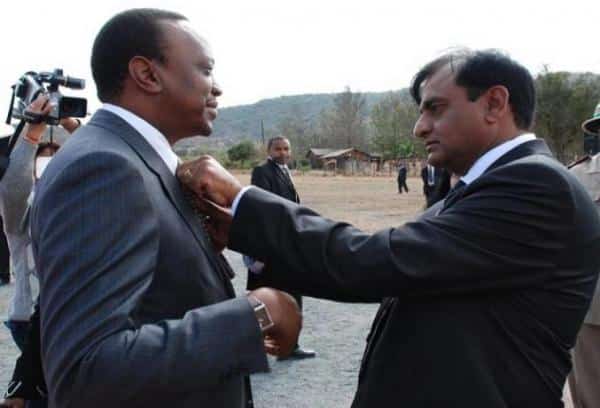 During the inauguration of President Uhuru Kenyatta, his navy blue suit was clearly worth a lot of money. It was reported that it was handmade by Italian fashion house Brioni.
These suits are regarded as some of the best in the world, and that will explain why they're preferred by the who's who. From Koffi Annan, Al Pacino, Donald Trump and even the late Nelson Mandela. Since 1995, they have been the 'official suit' of James Bond.
President Uhuru's Brioni suit
Brioni was founded in 1945 in Rome. Designer Nazareno Fonticoli teamed up with entrepreneur Gaetano Savini to create a brand that specialises in handmade suits. Over the years, their suits have become popular due to their attention to detail.
When you walk into any of their outlets, a master tailor gets your measurements, and one of the 900 tailors then works on it. The only use of machine is at the final touches stages. Everything else is hand sewn and that may explain why a single suit can take almost 2 days to get ready.
Daniel Craig as James Bond in a Brioni suit
The custom-tailored suits range from $6,500 (Sh552,500) to $47,500 (Sh4,037,500).
Here in Nairobi, Little Red at the Yaya Centre is the exclusive stockist of the brand. A master tailor visits the country twice a year to take the measurements of their clients.
The Star newspaper is reporting that the tailor is in town this week. Speaking at Serena Hotel on Monday, chief master tailor Angelo Petrucci noted that the Sh600,000 quoted as the going price is just a minimum. He said that fully personalised suits cost as much as Sh3 million.
"It's not an expensive product, but a costly one, reflecting the hours and hours of work, but it can last more than 40 years." he said.
"It takes up 18 to 22 hours to make a man's suit, sometimes up to 48 hours." he added.
Well, if it indeed lasts for 40 years, I think it's worth it.
Uhuru and James Bond's Tailor is in Nairobi To Take Orders for His Sh3 Million Suits