BONIFACE MWANGI'S PROTEST DONKEYS 'FALL SICK'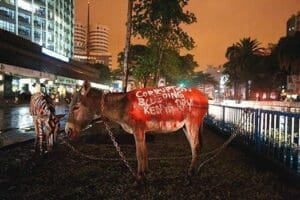 Two of the donkeys used by the activists protesting increased corruption on Monday are ailing.
According to the Kenya Society for Protection and Care of Animals, the two are in poor health and semi hairless because of the painting.
The activists painted and released five donkeys in the streets of Nairobi days after the President directed that those named in the graft report step aside.
Writings on the donkey's skin that appeared to have been made using paint were against corruption, impunity and poaching.
NO COMMENT
Activist Boniface Mwangi, who uploaded a video of activists painting the donkeys on Sunday night, said he had nothing to comment about the ailing animals when contacted by Nairobi News.
"All I will say is that I cannot comment and that seven people have been killed in peaceful protests across the country since January," he said.
The society for protection of animals took the donkeys to a shelter on Monday afternoon and on Thursday announced that two of them were sick.
Kenyans who commented on the post by the society had mixed reactions to the use of animals for protests.
Suzie Sardelli commented, "This is appalling – chemicals and paint are dangerous to put on any skin – I'm sorry for these poor donkeys, they did not deserve this treatment at all. Total ignorance on the part of the activists…paint yourselves instead!"
Wairimu Kuria commented, "What is so abusive about this? Is the paint toxic? Is it any worse than the normal routines that even the best tended donkeys go through?"
LEAD-FREE PAINT
The activists had earlier stated that the paint used was lead free and a vet was involved during the painting to ensure no donkey was harmed.
To this the society responded; "If it's true a vet certified the painting to the animals, we would like to know the vet registration number, his practice license and his contact details. We would like to know which paint was used. And if indeed a vet did allow these donkeys to be exploited this way did he consider their welfare? It is plain wrong to use and abuse voiceless animals in this manner!"
-nairobinews.co.ke