NE leaders to name sympathisers of Al Shabaab attacks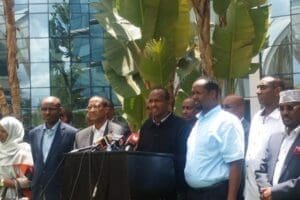 The terrorist attack on Garissa University College last week has compelled leaders from Kenya's northeast to give unprecedented suggestions on how to tame the menace of Al-Shabaab.
On Monday, political leaders announced they would compile a list of details of suspects and supporters of Al-Shabaab that they said were living among them.
Garissa Township MP and National Assembly Majority Leader Aden Duale led a group of more than 20 leaders in pledging Sh15 million to assist survivors and families of victims of the Garissa University College siege.
But what was unexpected was the suggestion that they would name, within seven days, sympathisers of attacks.
"We will within a week mobilise our constituents and working with the national and county governments, compile and submit details of suspects, with government agencies validating the information to guard against victimisation," Mr Duale said.
COUNTER FEAR OF AL-SHABAAB
The leaders, who included the governors of Garissa (Nadhif Jama), Wajir (Ahmed Abdullahi) and Mandera (Ali Roba), said they would work with clerics to counter the "fear of Al-Shabaab".
"We are aware that some of our youth have fallen victim to the evil ideology of Al-Shabaab.
"To tackle this, we will embark on an immediate massive and sustained campaign to win back the hearts and minds of the youth," Mr Duale went on.
He read a list of 12 proposals that also included vetting clerics in order to remove the radical ones.
According to annual police crime reports, Al-Shabaab terrorists have killed at least 470 people in Kenya since 2011, when the Kenya Defence Forces (KDF) went to Somalia.
Before the Thursday siege at Kenya's only public university in the northeast, Al-Shabaab had claimed responsibility in 133 terror incidents in which 322 people had been killed and 780 others wounded.
In Garissa alone, there have been 11 attacks.
Police say they have arrested at least 320 suspects related to those attacks on Kenyan soil.
Al-Shabaab, the Somali militants, oppose the presence of KDF in Somalia.
Yet there has always been suspicion that it is the group's cells in Kenya, probably made up of Kenyans, that have consistently conducted attacks on Kenyan soil.
PLANNERS EMBEDDED IN COMMUNITIES
"Our task of countering terrorism has been made all the more difficult by the fact that the planners and financiers of this brutality are deeply embedded in our communities," President Uhuru Kenyatta admitted on Saturday.
"Radicalisation that breeds terrorism is not conducted in the bush at night. It occurs in the full glare of day, in madrasas, in homes, and in mosques with rogue imams," he went on.
When asked why the leaders waited for so many deadly attacks to respond, Mr Duale argued there had always been a campaign against radicalisation.
"We have been doing it in our counties, individually.
"But now, the scale at which it has reached, it demands the leadership of the community and of the region to collectively face it," Mr Duale responded.
The move may also have been informed by the fear of economic sabotage resulting from the attacks.
The attack on Garissa University College left 148 people dead.
But it could threaten the chances of the northeastern region coming out of poverty.
The leaders from the region acknowledged the need to "purge from within ourselves" the threat of terrorism, which they argued would chase away investors and professionals.
"We are now going back to the drawing table," Governor Jama of Garissa told the Nation on Saturday after bidding farewell to the last batch of students leaving the town for home.
"We will need to comb this town and ask ourselves, "Do we have any sympathisers?" Otherwise, people should not complain if it happens again in future. How did those four boys come in? They didn't fly.
"We are told they came by road and someone drove them," he added, referring to the four terrorists killed by security forces at the scene.
"Garissa has more than 1,000 mosques with their imams. We are calling upon all stakeholders in these mosques to come forward and speak against the Shabaab menace," he added.
Governor Roba of Mandera, who has been targeted twice before, said Al-Shabaab was in fact threatening the economies of the region.
"We must collectively fight this war. We must not rely just on the police and the government. These people have infiltrated our society," he said at a rally in Garissa.
"What they want is to make sure that nothing good goes into our counties. We must fight back together," he added.
Last year, passengers were killed on a bus bound for Nairobi from Mandera.
It was followed by another raid on a quarry in the same county where workers were shot dead.
Teachers, medics and other civil servants demanded to be transferred from the region.
At Garissa University College, Prof Ahmed Osman Warfa, the principal, indicated that the college was to get its full charter as a university from the government in May 2015.
A charter would make it a fully fledged university. It is currently a constituent college of Moi University in Eldoret.
"We have experienced tremendous growth in terms of student numbers and human resource against the expectations of many," he said referring to the fact that Garissa is in a hardship area.
Established in 2011, the college initially admitted 480 students but some had to enrol at other Moi University campuses while hostels at the Garissa campus were being completed.
By last week, it had 815 students, 60 teaching staff and several non-teaching employees.
It was also running a Sh430 million hostel expansion project
The college was also benefiting the people living around it because they could rent out houses or sell items to students.
All these benefits could be history because students who survived the attack say they will not go back.
"I can't come back here again. It is like risking my life to secure my future. I can't do that," said Pallete Okombo, a second-year education student.
"Some of my friends were killed. I was calling them but they were not picking calls. They were in the hostels.
"I had rented my house outside the university," he added as he loaded his bags into a government vehicle.
"That is like playing with my life. I will not return here. They will have to transfer me," said Jacob Wafula, an Education student majoring in History and Kiswahili.
The government has imposed a dusk-to-dawn curfew until April 16.
The leaders in the region asked their communities to cooperate with the government to help weed out the Shabaab.
They argued it was their region that would suffer after all, unless the attacks stopped.
-nation.co.ke