Nkaissery: Attack caught us by 'surprise'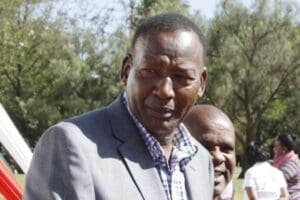 The government Thursday evening insisted it had been caught by surprise when terrorists descended on a university college in Garissa killing 147 students, despite reports that public institutions had been warned.
Interior Cabinet Secretary Joseph Nkaissery brushed aside a question on whether a travel warning issued by the United Kingdom and Australian governments had been ignored. Instead, he said the attack was unexpected.
"This incident, which happened today, is one of those incidents which can surprise any country," he told reporters in Garissa during a briefing.
The early morning attack on Garissa University College was preceded by travel warnings by the UK and Australia last week.
The UK in particular said it was recommending only "essential travel" to areas around the Coast and northeastern, including Garissa County.
The Kenyan government had also directed universities, especially those in Nairobi, to advise students on to be "vigilant" and report any suspicious sights on the campus or wherever they are.
The advice was informed by intelligence that there was an imminent attack on a vital installation in the country.
Mr Nkaissery applauded the security forces for ending the siege quickly. But he admitted the price paid was high.
"We commend our security forces and 90 per cent of the threat has already been eliminated. Of course at a very high cost in terms of loss of life," he said in one of the briefings Thursday.
The attack in Garissa mimicked the one on the Westgate mall in September 2013 and the number of casualties is more than double the death toll at Westgate.
Both incidents were acknowledged by Al-Shabaab, which argued they were "at war" with Kenya.
The Somali militant group said it was taking revenge on Kenya for sending troops in Somalia.
The Kenya Defence Forces went to Somalia in 2011 to pursue Al-Shabaab following a spate of kidnappings on Kenyan soil.
-nation.co.ke