Police reveal terrorists' homes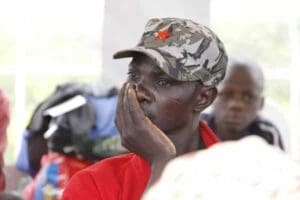 Three of the terrorists who murdered 142 students at Garissa University College two weeks ago were from Mombasa and Bungoma counties, intelligence reports have revealed.
Their identities will be confirmed once their fingerprints are matched with those in a database at the registration bureau.
The terrorists were killed by General Service Unit commandos, alongside Mohammed Abdirahim Abdullahi, a former University of Nairobi law student who led the attack.
A source privy to the intelligence reports said the terrorists are of Nubian origin.
Three police officers who were stationed at the college when the attack occurred have given their statements. A fourth officer, Administration Police Constable Peter Masinde, was among the first people to be gunned down.
According to the officers, the terrorists first killed security guards and then made their way into the compound.
According to their statements, the terrorists engaged police in a gunfight. The officers called for reinforcement.
According to an intelligence briefing, undercover officers in Mombasa and Bungoma have been trying to trace the terrorists' homes. By Monday they had not established them yet.
The law student was the son of the chief of Bulla Jamhuri location in Mandera County Abdullahi Daqare. He was Nicknamed Ababmo by his classmates at the Law Faculty on the Parklands Campus in Nairobi. His peers said he was a sharp dresser.
Mr Abdullahi had a room on campus but preferred operating from Eastleigh, where he run a business.
Meanwhile, police plan to interrogate some students from the university following claims that the terrorists kept their ammunition in one of the rooms.
Among the suspects arrested are Mr Mohammud Adan Surrow, a hotel owner in Garissa Town, where the terrorists spent a night, Mr Osman Abdi Dakane, a security guard at the university, Mr Mohammed Abid Abikar, Mr Hassan Adan Hassan, Mr Sahal Diriye Hassan, who were intercepted as they tried to cross into Somalia. A Tanzanian, Mr Rashid Charles Mberesero, was also seized.
-nation.co.ke