Row over planned US poll centres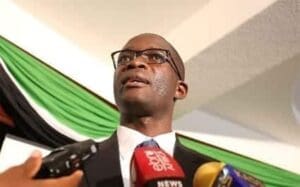 Major political parties have differed over a decision by the government to open more consulates which may be used as polling centres by Kenyans in the US in 2017.
Cord Sunday opposed the decision to open more consulates, saying it was meant to tilt the vote in favour of President Kenyatta.
Cord leaders vowed to reject any proposal that does not take their views on board.
ODM chairman John Mbadi Sunday said the government should not be the one to determine where the polling stations will be located.
"It is clear that our competitors want to control the diaspora vote and are turning themselves into referees. It is a clear indication that the Jubilee administration wants to use the diaspora vote to rig the election, which we should reject early enough," he said.
Wiper secretary-general Hassan Omar said Independent Electoral and Boundaries Commission should involve parties which have an interest in the diaspora vote to establish how voting structures would be put up without disadvantaging some and benefiting others.
"We are extremely concerned that IEBC has lost all credibility in neutrality, they are conniving to facilitate polling centres to serve as an advantage to the government," he said.
However, Jubilee Alliance Party vice-chairman David Murathe said the reaction from the opposition was a sign of panic.
He noted that any decision made concerning the diaspora vote would have to be anchored in law. "I will ask these people to stop panicking, a lot will have to be put into it. These are the same fellows who have been urging the government to make provisions for diaspora voting," he said.
Currently, there are about two million votes in the diaspora, which major political parties have an eye on as the vote could tilt the balance in elections.
Yesterday, it emerged that the IEBC was not consulted or involved in the plan to open the new consulates.
IEBC chief executive officer Ezra Chiloba told Nation that the commission was not consulted by the government on the matter.
He, however, said IEBC was working out modalities on how to involve the diaspora in the 2017 elections.
Mr Chiloba noted that political parties and other players would be consulted before a decision is made.
"So far we have not had that discussion on whatever process we will have to undertake. When we are ready, we are going to consult them on the best way forward," he said.
He went on: "In so far as we are concerned, it has to be an inclusive process involving political parties and stakeholders so that we don't have issues of bias."
While addressing a meeting of Kenyans in Los Angeles on Saturday, Foreign Affairs Cabinet Secretary Amina Mohamed said the government is in the process of opening five consulates across the US to serve them better and facilitate voting in the 2017 General Election.
She said consuls for Dallas, Boston, Minneapolis and Chicago would soon be appointed while the choice of Seattle for a consulate awaits formal approval.
At the same time, Kenyan ambassador to the US Robinson Githae told a gathering of Kenyans in Maryland that the government had chosen several major cities in the United States to be polling centres for the next General Election.
He mentioned Dallas, Texas, Boston, Massachusetts, Atlanta, Georgia, Minneapolis, Minnesota, Seattle, Washington as polling stations, setting off a debate on the criteria used to select the centres.
-nation.co.ke