Isaac Rutto at EACC over corruption claims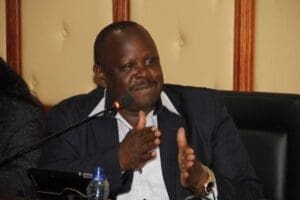 Bomet Goverrnor Isaac Rutto is at the EACC for questioning on graft claims stated in a report tabled before the Senate in March.
He was with his lawyer and a bodyguard when he arrived at Integrity Centre at about 10am on Tuesday.
Rutto allegedly hired Kenya Red Cross Society ambulances at Sh650,000 a month through single-sourcing.
He is also accused of accumulating wealth including 40 earth movers, tippers and grades at an estimated Sh400million, and a chopper valued at Sh300million.
"Rutto bought a palatial house in Ngong worth Sh33million and operates numerous petrol service stations," the report further alleges.
The governor denied the claims saying his conscience is "crystal clear" and that he has never misused any public funds.
– the-star.co.ke