Lupita Nyong'o at younger sister Esperanza Nyong'o's wedding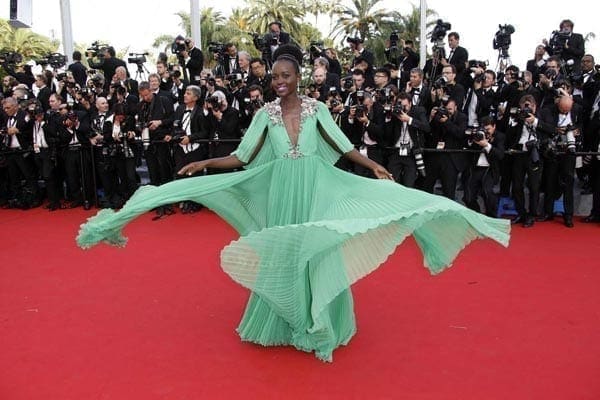 Oscar-winning star Lupita Nyong'o on Saturday attended the wedding of her younger sister Esperanza Nyong'o at the exclusive Great Rift Valley Lodge in Naivasha.
Esperanza tied the knot with Tanzanian Dadi Masesa at a 300-guest cards-only event as the sun set over the Naivasha plains. The ceremony began at 3 pm, with the reception three hours later.
It was an exclusive event with only accredited professional photographers allowed to take pictures. Waiters and other staff at the lodge had their phones confiscated to ensure nobody leaked the photos.
Mr Masesa, who comes from Musoma, is an Information Technology consultant.
This was the first time the Hollywood star, who is the daughter of Kisumu Senator Anyang' Nyong'o, was setting foot in the country after scooping two awards in the US.
The ceremony was attended by a number of other celebrities as well as Senate colleagues of Senator Nyong'o.
Lupita made her debut in the global movie world after she bagged the best supporting actress award for her role in 12 Years a Slave in 2014.
Among the prominent personalities present included former Prime Minister Raila Odinga, Senators Hassan Omar, Agnes Zani and former Attorney-General Charles Njonjo.
Meanwhile, the actress has revealed that she is thrilled to act as a pirate and space cadet in the highly anticipated science fiction film Star Wars: Episode VII – The Force Awakens.
This is after the revelation of her role in the film to be released in December generated mixed reactions from her fans with most of them saying she was too attractive to play a role where her character will be in computer generated imagery (CGI).
Film director JJ Abrams recently revealed Lupita will be Maz Kanata, a space pirate who lives in her own castle.
She will have an array of Galactic travellers for travel between galaxies plus smugglers to assist her in her work.
According to Abrams, Kanata is a pirate with no allegiances to either the Resistance (the new name for the Rebel Alliance) or the First Order (the new Empire) heightening speculation that Lupita's character could be substantial in the movie.
However, because of the application of CGI for her character, her face will not be visible throughout the movie.
This has not gone down well with the fans of People's Magazine "World's most beautiful person 2014" with some saying it is a waste of her beauty.
"I'm a little disappointed Lupita will be a CGI character. She's beautiful and has shown great acting range and I think the motion capture might limit her full potential for her performance," said Fuego Asciende while reacting to the news on IGN.
"It might be a waste for Oscar winning talent to be used for this kind of role but I will hold full judgement until we see her in action," said Alan Connor.
But according to the Washington Post, the 32-year-old actress is ecstatic about the role.
"I am super excited to be moving to another planet for a while," she said
"As a child, I was always interested in make-believe. I was known to hide in closets and play with dolls while other kids were outside riding bikes,'' she said.
She said she could not reveal any further details about the movie's plot or if she will be play as part of the protagonists or antagonists but insisted she was very excited about her role.
She also admitted that since winning an Oscar her she has had to be a little conscious about how she carries herself.
"Fame didn't mean anything to me until I got the Oscar nomination. That's when it became real," she said.
Lupita Nyong'o at younger sister Esperanza Nyong'o's wedding