Al-Shabaab militia assassinate a local chief in Wajir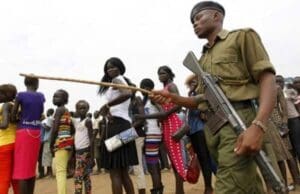 GARISSA, Kenya: A Kenyan government administrator in the country's restive northeast has been gunned down by suspected members of the Somali-led Al-Shabaab militia, police said Sunday.
Mohamed Barre Abdullahi, a local chief in Wajir, which is close to the Somali border, was shot dead after finishing evening prayers at a local mosque on Saturday.
"The assailants trailed him to the mosque before taking cover to wait for him as he was praying. They then followed him until he was some short distance away from the place of worship, before pulling the trigger," said Wajir County police commander Samuel Mukindia.
He said the attackers were pursued by a police patrol but managed to escape under cover of darkness.
Kenyan security sources said the attack was likely carried out by the Al-Qaeda-affiliated Al-Shabaab, which has stepped up operations in Kenya's northeastern border region, including drawing up an alleged "hit list" of local government officials who have spoken out against the group – branding them "agents of infidels."
The assassination came only three days after the Kenyan government lifted a two-month dusk-to-dawn curfew in the region bordering war-torn Somalia. The curfew was lifted to mark the start of the Muslim fasting month of Ramadan, a period commonly marked by an upsurge in Al-Shabaab attacks.
Under pressure in Somalia where they are fighting to overthrow the internationally-backed government, Al-Shabaab is now increasingly targeting Kenya, particularly the border counties of Mandera, Wajir and Garissa.
In the group's deadliest attack to date, four gunmen killed 148 people, mostly students, at a university in Garissa in early April.
In 2013, four Al-Shabaab gunmen killed at least 67 people in an assault on the Westgate mall in the capital Nairobi.
-dailystar.com