PHOTO: KENYATTA UNIVERSITY LAUNCHES THE FIRST KENYAN MADE LAPTOP
PHOTO: KENYATTA UNIVERSITY LAUNCHES THE FIRST KENYAN MADE LAPTOP
Jomo Kenyatta University of Agriculture and Technology (JKUAT) has launched about 4,000 units of its locally made Taifa Laptop, reports TechMoran.
The laptops which were designed and assembled by the university were however manufactured by Inspur, a Chinese ICT company. The Taifa PCs ship with Core i3 4th Generation Processor, 500 GB Hard Disk, 4GB RAM, 14″ TFT Screen, WiFi, HDMI Port, SD Card Slot, Mic, 3 USB Ports, six-cell Lithium Battery, a WebCam and it runs on the WIndows 8.1 OS.
"Taifa Laptop is a product of collaborative research output by progressive stakeholders including the Government of Kenya, who have a shared vision of making the country, not only a robust economy in the region and Africa, but also home to technological innovation," says JKUAT's Vice Chancellor, Prof. Mabel Imbuga.
Taifa is credited to Nairobi Industrial and Technological Park (NITP), a joint initiative between the university and Kenyan's Ministry of Industrialization and Enterprise Development. A multipurpose assembly line is already being put together at the Juja-based Nairobi Industrial and Technology Park and will be commissioned by September
TAIFA laptop will sell for a retail price of about Kshs 50,000 ($514).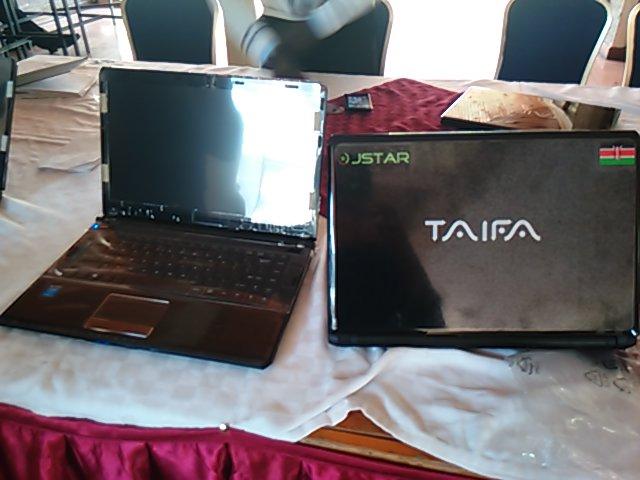 PHOTO: KENYATTA UNIVERSITY LAUNCHES THE FIRST KENYAN MADE LAPTOP