Sauti Sol Seattle Event no-show explained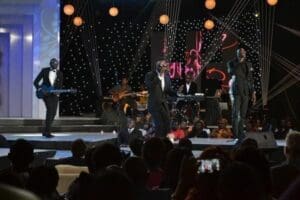 Heightened security at Atlanta's Hartsfield International Airport disrupted Sauti Sol's travel plans for a performance in Seattle, Washington.
The members of the group had split up when going through security at the world's busiest airport on Sunday, with only Bien-Aime Baraza, the group's manager and a keyboardist managing to make the flight which was scheduled to land at Seattle–Tacoma International Airport early afternoon.
The Nation has learned that Bien salvaged the event by performing solo.
"He was at his best," said one of the event organisers, Ron Imanene, in a telephone interview from Seattle.
However, a disgruntled fan who spoke on condition of anonymity said she and other revellers who had been eagerly awaiting Sauti Sol's arrival at Seattle's EMP Museum left in protest as word spread that the band would not make it for the show. She said she expected the management to "take full responsibility" for the debacle.
On the day, multiple bomb threats had been made at three different airports, including Atlanta, the hub of Delta Airlines.
Government sources later said the threats were not credible.
The Washington State event was organised by One Vibe Africa in support of a Kisumu-based music and art centre.
Arunga Awuor, M1 of Dead Prez and Dax Lion performed as the crowd awaited Sauti Sol's appearance. Others were Jus Moni, Aisha Fukushima, Babaluku, Project Lion Heart, LaRue and Zack Okello.
The Seattle show was Sauti Sol's last major gig ahead of the BET Awards ceremony set for June 28 at the Nokia Theatre in Los Angeles, California.
The group, nominated in the Best International Act category, had performed in Atlanta the previous day.
-nation.co.ke