Six Coast Cord MPs 'decamp' to Jubilee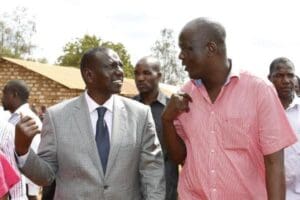 Six Coast MPs announced intentions to decamp from Cord to Jubilee during Deputy President William Ruto's Friday tour of Kilifi.
The MPs said it was time Coast leaders rallied behind the government following tremendous changes since Jubilee came to power in 2013.
"We have seen that this government matches its words with deeds, that is why we are behind you and the President," Coast parliamentary group chairman Gideon Mung'aro told Ruto.
The Kilifi North MP said as much as the region overwhelmingly voted for Cord, time had come for a turnaround.
"Although we were in Cord in the past general election, we need to change and chart a new political destiny. We need to fully support the government," he said.
Among MPs present were Peter Safari Shehe (Ganze), Harry Kombe (Magharini) and Gonzi Rai (Msambweni).
Others were Kilifi women's representative Aisha Jumwa Karisa and her Kwale counterpart Zainab Chidzuga.
The leaders spoke during an event to lay a foundation stone for the construction of Mbudzi hospital in Ganze constituency.
Ruto said the government will serve all Kenyans irrespective of their political affiliations, assuring the region's development.
He said the government has set aside Sh148 million for the construction of a youths' technical training institute in Ganze.
Ruto said more funds had been allocated for the completion of Mariakani-Kaloleni-Pamba tarmac road to ease movement.
He further noted that the government has released Sh425million for the upgrade of Malindi hospital to a referral hospital.
A further Sh320 million has been allocated to the upgrade of Kilifi hospital to a referral facility, he said.
On Thursday, the MPs said they would make "a big political announcement" when Ruto toured the area.
Shehe said there would be a surprise declaration at the function, following the invitation and confirmation of attendance by MPs perceived to be critical to the government.
"This is an initiative that has backing from all the legislators in this region and serves as the best convention where our political stand and direction will be known," he said.
– the-star.co.ke