PHOTOS: HUMILIATION AS ITALIAN PM 'WEARS BULLET PROOF VEST TO STATE HOUSE'
PHOTOS: HUMILIATION AS ITALIAN PM 'WEARS BULLET PROOF VEST TO STATE HOUSE'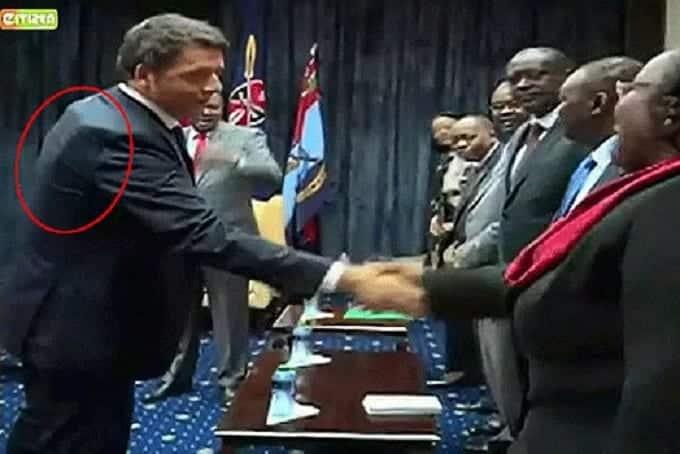 Did Italian Prime Minister Matteo Renzi take President Uhuru Kenyatta's message that "security starts with you" seriously?
Well, looks like he did.
President Kenyatta could have suffered the ultimate embarrassment following reports that the PM went to State House wearing a bullet proof vest.
A picture doing rounds on social media shows what looks like corner-shaped outfit underneath the PM's slim fit Italiain suit.
PM Renzi was shaking hands with State House staff as President Kenyatta looks on.
The PM later showed up at the University of Nairobi for a public lecture where he is also seen with the same outfit.
The Nairobi News could not independently authenticate if the PM wore the bullet proof vest to State House, a place that is presumed to be the most protected in Kenya.
Both State House and the Italian embassy were unavailable for comments.
Kenya has from time to time suffered terrorist attacks staged by Somalia-based Al Shabaab militants.
-nairobinews.co.ke
PHOTOS: HUMILIATION AS ITALIAN PM 'WEARS BULLET PROOF VEST TO STATE HOUSE'