Tourists, foreigners to use manual visas until September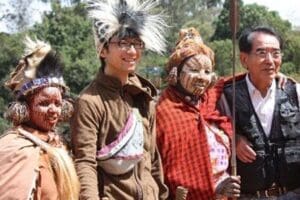 Foreigners in possession of manual visas on Friday got a reprieve after the government said they are still acceptable until September, after which only online ones will be accepted.
"We wish to give assurance to tourists and other foreign nationals visiting Kenya that there will be no disruption to their visa applications because the systems will run alongside each other in the initial period to ensure smooth transition for all stakeholders," said Interior ministry spokesman Mwenda Njoka.
The government introduced online visas on July 1, and there were fears foreigners who had already planned visits to Kenya would be disadvantaged.
The government, however, has informed visitors that only online visas would be issued beginning September 1.
"As part of government's continuous efforts to improve delivery of services to the public the department of Immigration services has put in place a system for online application, payment and issuance of visa for visitors coming to Kenya," Mr Njoka said.
The online system, to be known as e-visa, is expected to significantly streamline the processing and issuance of visas to foreign nationals visiting Kenya.
Until September, the manual visa system will run concurrently with the e-visa.
This is the latest addition of modern services rolled out by the department.
E-citizen was launched earlier and is hailed as an easier option for applying for passports.
It is a one-stop portal for government information and services meant to help Kenyans complete their transactions conveniently and is an initiative by the Ministry of Finance and is managed by the ICT Authority of Kenya.
In March, the government also introduced a new computer system that will link up government agencies that hold the personal information of individuals in a bid to enhance efficiency and security.
The Integrated Population Registration System was the brainchild of the Immigration department.
It started in 2011 after the defunct Ministry of State for Immigration and Registration of Persons signed a contract to develop it.
Immigration is now a directorate under the Ministry for Interior and Coordination of National Government.
-nation.co.ke