Governor Mutua slams leaders bent on perpetuating poverty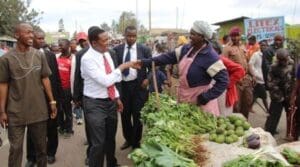 MACHAKOS, Kenya, Aug 17 – Machakos Governor Alfred Mutua has come out fighting and hit out at critics of his Maendeleo Chap Chap ideology which aims to transform the county economically and politically.
Mutua said he was not interested in power games and empty politics, but development.
He said he was ready to work with all leaders from Ukambani as long as their agenda is to roll back poverty and not to perpetuate the old style of power politics of empty rhetoric , empty promises and tribal hatred.
"The people of Machakos who elected me to serve them come number one, number two and number three. That is the spirit of Maendeleo Chap Chap," said Mutua.
He said he was saddened that some leaders see every move he makes to uplift the lives of his people as a threat to their comfort level and to their control of power.
Mutua said political leaders claiming he was causing cracks in Ukambani politics as desperate saying they were hooked onto power at the expense of the masses.
"Many people are calling and asking me what my desire is and what I am seeking through my development ideology. I am not seeking power but goodness and development for my people," said Mutua.
He said it was possible to change people's lives only if leaders concentrated more on development and not politics of power.
"That's why I am convinced that if we pull together, we will transform Machakos and even Kenya to be one a first world region," said Mutua.
A local newspaper on Sunday reported how Mutua is causing discomfort in the Wiper Party and threatening to disrupt Ukambani politics.
Already, factions are beginning to form in Ukambani with some leaders being allied to Mutua and others to Wiper leader Kalonzo Musyoka.
Mutua is said to represent the emerging progressive, young and development conscious leaders against the conservative old order whose agenda he alleges has been to perpetually play politics.
Musyoka has however stayed put despite the onslaught by Mutua and his brigade, insisting there was no possibility of him staging a political coup through the back door.
The former VP has put on a brave face saying Mutua's onslaught against him was wishful thinking .
But Monday, Mutua through his Press Secretary Mutinda Mwanzia in a statement issued in Machakos Town said it was only in Africa where a leader is vilified for working hard to fight poverty and develop his region.
"That's why I am baffled at leaders who sleep comfortably year after year for decades as they lord over the poor as tribal kingpins," said Mutua.
He said leaders should aspire to lead people who are doing well economically.
Mutua insisted he was not interested in supremacy battles and those alleging he was dividing the community wanted the status-quo of underdevelopment to continue.
He reiterated that he was not interested in becoming a tribal kingpin but was purely committed to leading the County and Ukambani at large to its economic Canaan.
"I will continue telling all those leaders opposed to my style of development politics that there is no romance in poverty. I want to show that there is a time for everything," said Mutua.
He said the masses should stand up to their rights and demand that leaders account for what development they have initiated once elected.
Mutua said even the Bible is clear that there is a time for everything under the Sun.
"This is the time for rolling back poverty and freeing our mothers from the yoke of lack of water, our youth from joblessness and our children of diseases," said Mutua.
He said his program of providing piped water to every home across the county, upgrading roads and providing quality healthcare was unstoppable.
A section of leaders in the county led by Senator Johnson Muthama have openly opposed Mutua's programs terming them political.
But Mutua urged his critics to tour the county and see for themselves the transformation that is happening.
"Some can't believe that the poor can have a simple shower and no longer trek kilometres in search of water. It is happening in Machakos,"said Mutua.
-capitalfm.co.ke