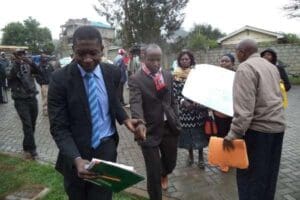 A mob confronted the man said to have been driving a killer Range Rover in Limuru, and asked him to stop covering up for pastor James Ng'ang'a.
The family of Mercy Njeri, who died in the accident, and residents attacked Simon Kuria outside Limuru law courts, threatening to beat him, on Friday.
They said they want the charges against Kuria dropped and the Neno Evangelism Centre pastor charged.
"We want Ng'ang'a, not you. Give him up," they chanted, forcing Kuria to retreat to the court with his lawyer.
They said they would camp at the court until their plea is heard.
The drama ended when Kuria hid
and jumped over a tall concrete fence using a ladder which was brought
in the court as an exhibit and run away.
Senior principal magistrate Godfrey Oduor postponed the case for two weeks to allow a further probe by the CID, saying a request had been made by the DPP.
DPP Keriako Tobiko wants the police to identify the owner of the vehicle.
While recording a statement on Thursday, Ng'ang'a maintained that he is innocent, and asked the public and the media not to taint his image.
Speaking during an interview on NTV, he said he neither knows who was driving the car nor its owner.
"The only thing I know is that there was a party at the hotel and many people came; there were many cars," he said.
"Look at me, am I Injured? Do I have any problems? The people behind this should know there is God, there is justice. There are people behind this trying to kill my ministry."
Last week, police said Kuria, not Ng'ang'a was driving the Range Rover, registration KCD 060Q, when it collided with a Nissan March.
IG Joseph Boinnet said the vehicle belongs to Valley Road Motors and that Kuria had taken it on a test-drive.
Njeri, who was driving the Nissan March, died while undergoing treatment while her husband was admitted and discharged.
The case will be heard on August 21.
– the-star.co.ke