ODM Bigwigs Battle For Key Party Positions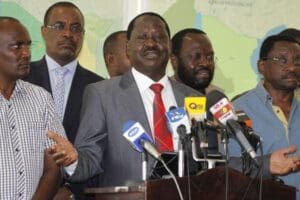 IT is make-or-break time for Cord leader Raila Odinga as ODM bigwigs face off in the first of hotly contested grassroots polls kicking off today.
Political heavyweights will renew their rivalry as they battle for influential positions in a new and powerful county party organ, the County Coordinating Committee.
This first five-day process concludes on Wednesday for six counties — Kajiado, Kilifi, Marsabit, Migori, Vihiga and Wajir.
Nairobi elections will be conducted from September 5-9.
Other counties will vote later.
Each county will have 18 representatives on the vast committee.
Notable senators, governors and MPs are keen to secure crucial slots on the CCC, the supreme decision makers in party matters at the grassroots.
Governors from ODM-controlled counties are taking no chances and want to assert their grip as CEOs of their bastions by clinching top spots, being thus assured of places on party tickets in 2017.
"These elections are very competitive. There are over 5,000 applicants for the first six counties only," ODM National Elections Board Chairperson Judy Pareno said.
The new CCC of the Orange party in mandated to oversee party activities at the county level and it has a direct link to the National Secretariat.
This party management group will have unfettered powers to make far-reaching decisions in handling party discipline. It can also recommend deregistration of errant members.
The CCC will also determine the list of delegates who will in turn pick future standard bearers for national office, under the party's new constitution.
These elections are part of an extended process culminating in the National Delegates Conference to endorse ODM leader Raila Odinga as the party's 2017 presidential candidate.
They were postponed last month to accommodate returning party hoppers and defectors. After vetting, they will be able to contest in party elections.
Pareno told the Star all systems are go and all ballot materials are in place.
"We wrote to all the County Commanders to provide security where we are holding elections," Pareno said, attempting to allay fears of violence that have disrupted earlier internal party polls.
Early this month, ODM National Executive Committee, bowed to pressure and awarded blanket amnesty to defectors who jumped to rival parties after losing in the 2013 party primaries.
Yesterday, the Star confirmed ODM heavyweights are strategising and trying to draw up winning formulas ahead of the county polls that pose another unity test for the country's single largest political outfit.
Some of the key CCC positions attracting cutthroat competition are the chairman, secretary, treasurer and organising secretary who wield considerable influence at the National Executive Committee.
In a departure from the past practice, ODM will elect polling station steering committee officials across the country, making the voting centers the party's basic unit.
On an organisational level, above the polling station will be the subbranch at the ward level, which will be managed and coordinated by the sub-branch executive committee.
However, the branch will be at the constituency level and will be managed by the Branch Executive Committee.
Other county elections will be from October 30-November 3 in Baringo, Bungoma, Homa Bay, Isiolo, Kisii, Kitui, Lamu, Makueni, Mandera, Marakwet, Meru, Murang'a, Narok, Nyamira, Nyeri, Taita Taveta, Tharaka Nithi, Trans Nzoia, Uasin Gishu and West Pokot.
Elections in other counties will be announced at a later date.
– the-star.co.ke