Senator Gwendo's bodyguard shoots passenger after boda boda scratches her vehicle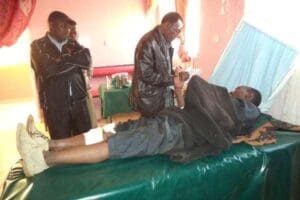 Nominated Senator Joy Gwendo's bodyguard shot a passenger in the leg after a boda boda he was on scratched her car in Kijabe on Sunday evening.
The boda boda scratched the rear bumper of Gwendo's Toyota Prado, compelling her bodyguard to ask the rider to pull over, said Lari OCPD Alfred Makoma.
Makoma said the rider started speeding instead, after which the boyguard drew his gun and aimed for the motorcycle's tyre but missed.
He said the passenger, 37-year-old Charles Korir, and the cyclist fell in a ditch, but the owner of the boda boda fled afterwards.
Makoma said Gwendo stopped, following the incident, but left as a crowd gathered around the victim.
She reported the incident at Kimende police post, he said, adding that investigations are ongoing.
Noting that the passenger had undergone an operation on his left leg at Kijabe hospital five months before, Makoma said he sustained injuries on his right leg.
He was taken to Orukuma health centre and later transferred to Tigoni subcounty hospital for further treatment.
– the-star.co.ke