Shock as two Kenyans fail drugs tests at Worlds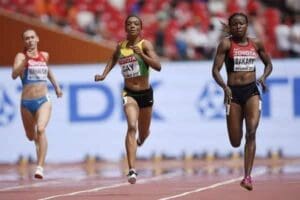 Two Kenyans have failed pre-competition drugs tests at the world championships in Beijing and have been provisionally suspended, the IAAF announced Wednesday.
Koki Manunga and Joyce Zakary "have accepted provisional suspensions following positive samples provided in Beijing on the 20th and 21st of August respectively", the IAAF said in a statement.
Track and field's world governing body said the Kenyan pair had been tested at the athletes' hotel before their competition started as part of "targeted tests".
Zakary clocked a national record of 50.71 seconds in Monday's first round of the women's 400m at the Bird's Nest, but did not start the semi-final on Tuesday for which she had qualified.
African silver medallist Manunga, however, failed to make it out of her first round of the 400m hurdles on Sunday, timing 58.96sec to finish 35th out of 37 athletes competing.
Kenya was rocked this year when marathon star Rita Jeptoo was banned for two years after being caught doping with the banned blood-boosting hormone EPO.
Jeptoo is the biggest name in Kenyan sports ever to have been caught, and the bust has been a major trauma for a country that idolises its medal-winning and record-breaking runners.
Top Kenyan athletes earlier this month called for the national governing body, the International Association of Athletics Federation (IAAF) and the world's anti-doping body WADA to take action over reports of widespread doping.
Leaked results cited by German broadcaster ARD and the Sunday Times claimed that more than 800 athletes, including 18 Kenyans, had "suspicious blood test results" between 2001 and 2012.
ARD alleged doping was ongoing in Kenya, and claimed there was "massive corruption" within the Kenyan set-up and "a desire to cover-up doping… to the summit of the Kenyan athletics federation".
Athletics Kenya, the nation's governing body, said it had "watched with grave concern the German TV ARD documentary", calling the broadcast, which coincided with the national trials for the world championships in Beijing, "extremely suspect and ill motivated".
nation.co.ke