UHURU TO ADDRESS UGANDAN PARLIAMENT THIS WEEK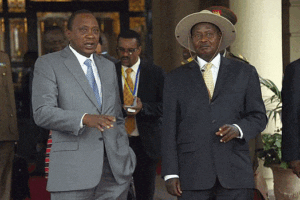 President Uhuru Kenyatta is set to address Ugandan Parliament during an official weekend-long visit to the neighbouring country.
President Kenyatta is expected to tour Uganda starting Friday at the invitation of President Yoweri Museveni, according to the New Vision.
The Kenyan head of state will arrive on Friday and  address Uganda's parliament in the afternoon.
He will later be hosted to a state dinner, according to the report.
President Kenyatta's press team is yet to release his travel schedule.
During the visit, President Kenyatt will hold a bilateral meeting with President Museveni and also attend a business forum, before meeting the Kenyans in Uganda.