We have cooperated fully with ICC – Uhuru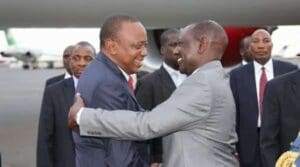 NAIROBI, Kenya, Aug 12 – Kenya has cooperated fully with the International Criminal Court (ICC) and will continue to do so because it believes in the rule of law and international justice, President Uhuru Kenyatta said Wednesday.
The President said that was why he and Deputy President William Ruto voluntarily submitted to the court when they were required to do so following the 2007/2008 post-election violence in the country.

"If Kenya believed in impunity, it would not have submitted to the courts as it did. We have equally all along cooperated with the court because we are committed to justice at all levels," the President said.
President Kenyatta added: "African countries have expressed concern over whose agenda ICC is pushing but despite all that, we have never failed to cooperate with the court."
He appealed to the court not to focus on justifying its existence at the expense of its core mandate of delivering international justice and ensuring peace and reconciliation.
The President said the objective of the court must be to bring people together and ensure justice is served but not to cause more problems.
President Kenyatta was speaking during a meeting with the new Assembly of State Parties (ASP) to the Rome Statute of the ICC President Sidiki Kaba who paid him a courtesy call at State House, Nairobi.
Kaba – a former Minister of Justice and Keeper of the Seal of the Republic of Senegal – was elected on December 8, 2014 by the 13th Session of the Assembly of States Parties (ASP) to the Rome Statute of the ICC as the President of the assembly for the next three years. He is the first holder of the ASP office to visit Kenya.
President Kenyatta pointed out that Kenya and other African countries played a key role in the creation of the Court and the Rome Statute.
He emphasized that Kenya has fully complied with the requirements of ICC including the implementation of a progressive Constitution that has entrenched justice and ensured democracy and the rule of law.
As a result, the President said, Kenya has been commended for the systems it has put in place to safeguard the rights of citizens.
Kaba – who also delivered a special message to President Kenyatta from Senegalese President Macky Sall – said Africa provides the most important team to the ASP and its concerns must be heard and addressed.
He assured President Kenyatta that Kenya's and Africa's issues will be accorded the attention they deserve during his tenure as the ASP President.
The meeting was also attended by Foreign Affairs and International Trade Cabinet Secretary Amb. Amina Mohamed and Principal Secretary Eng. Karanja Kibicho.
-capitalfm.co.ke