Western Kenya MPs pledge to embrace Jubilee in 2017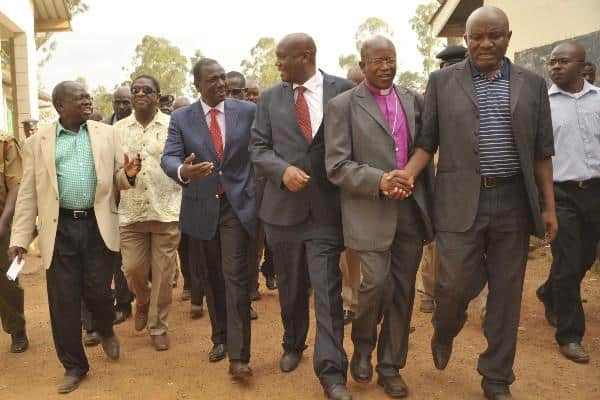 Leaders from Western Kenya have said they will be careful on how they will vote in the next general election so as not to make another mistake of being in the Opposition.
The leaders said they will work with the Government and will consider joining hands with Jubilee come the next election.
They were Chris Wamalwa (Kiminini MP), John Waluke (Sirisia MP), Dan Wanyama (Webuye West MP), Beatrice Alachi (nominated senator), Henry Ndiema (Trans Nzoia senator), Governor Patrick Khaemba (Trans Nzoia), former cabinet ministers Musikari Kombo and Noah Wekesa.
The leaders said they will work with the Government for the sake of development and will not afford to be in the Opposition after the 2017 general election.
"We will work with this Government as it has shown the desire to develop our region which voted for Opposition in 2013. For us we want development and we are seeing that in Jubilee," said Kiminini MP Chris Wamalwa.
They were speaking during a function presided over by Deputy President William Ruto at Sikhendu Primary School in Kiminini Constituency; Trans Nzoi County on Saturday.
"We are used to the Government and we will be back as people of Western in 2017 through Jubilee," said Noah Wekesa.
Mr. Kombo said by appointing Mr. Eugene Wamalwa to the Cabinet, the Government has shown that it cares for Western region despite being an Opposition zone. "We will return the favour in 2017," said Mr. Kombo.
Mr. Wanyama said:"2017 will be a two horse. Jubilee verses CORD. We will choose the winning horse and we know it is Jubilee. We made mistakes in 2013 but never again."
Ms. Elachi told residents in the region to open their eyes and see which team will form the next Government.
"Open your eyes and see where the next Government will come from. Don't repeat mistakes of the last election," she said.
"We cannot work without the national government," said Governor Khaemba.
Western Kenya MPs pledge to embrace Jubilee in 2017