Kenya takes DP Ruto case to UN forum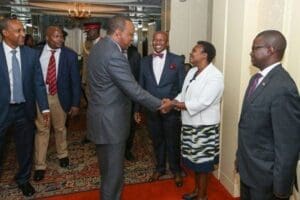 Kenya will use the United Nations General Assembly that begins here on Saturday to push for the dropping of Deputy President William Ruto's case in The Hague.
The UN General Assembly will also witness President Uhuru Kenyatta co-chair at least six sessions on tackling poverty, the role of women and children, trade and development, and peace in East Africa.
Foreign Affairs Cabinet Secretary Amina Mohammed and Kenya's permanent representative to the United Nations, Mr Macharia Kamau, said the country will lobby UN member states to have the charges against Mr Ruto and his co-accused, journalist Joshua arap Sang, withdrawn as more reforms are worked on to strengthen the International Criminal Court (ICC).
Ms Mohammed said African countries were opposed to the way the ICC was applying the Rome Statute in handling cases, particularly the one facing the DP.
She said the issue would be raised on the floor of the UN General Assembly to show that Kenya's complaints are justified.
"We should be at the forefront to ensure that it (ICC) works in line with the Rome Statute, of which we are a signatory. The Rome Statute was not cast in stone and the member states can amend it," she said. She spoke on the sidelines of an Africa Travel Association forum at New York University.
Kenya was incensed by the Trial Chamber's recent decision that allowed Prosecutor Fatou Bensouda to use recanted testimonies by hostile witnesses as evidence in court, using the new Rule 68, which was adopted by the Assembly of State Parties in 2013.
Attorney-General Githu Muigai and Mr Ruto's defence team, led by Mr Karim Khan, argued that the rule was being applied wrongly by the judges to punish the DP. Mr Ruto has, however, been allowed to appeal against the ruling.
Mr Kamau said the AG had taken up the matter with the ICC because the rule was not being respected. He spoke at his UN Plaza offices.
-nation.co.ke