3rd Annual Mashujaa Awards Gala will be on October 17th in Houston Texas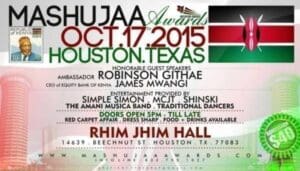 Building on the spirit and sacrifices of the heroes (mashujaa) who fought for Kenya's independence, and coinciding with Mashujaa Day which is celebrated on October 20th every year, the Annual Mashujaa Awards Gala recognizes and celebrates the achievements of Kenyans both in the Homeland Kenya and the entire Diaspora at large.
The 3rd Annual Mashujaa Awards Gala will be held on Saturday, October 17th, 2015 in Houston, Texas.
Honorable Guest Speakers include H.E. Robinson Githae (Kenyan ambassador to the US) and Dr James Mwangi (CEO, Equity Bank).
The newly crowned Miss Africa USA 2015/2016 Fozia Mohamed will also be in attendance.
Simple Simon of Black Supremacy Sounds, alongside DJ Shinski, MCJT, The Amani Musica Band, and Traditional Dancers will provide entertainment.
Venue: Rhim Jhim Hall – 14639 Beechnut St, Houston, TX 77083.
Doors Open 5pm till late
Red Carpet Affair  | Dress to Impress | Food & Drinks Available | Entertainment
Advance tickets are available online at $40. Purchase yours before they sell out atwww.mashujaaawards.com/buy-tickets.
The Mashujaa Awards Gala is sponsored by BOSI International Association.
NOMINEES:
Here is the nominees list for the 3rd Annual Mashujaa Awards:
EDUCATION: Judith Awino, Faith Wagunyu (Kelsaw, GA), Jennifer Muturi (Austin, TX) & Annie Mucheru Garza (Corpus Christi, TX)
NEWS, MEDIA & ENTERTAINEMENT:  Marsha Lily (LSV Magazine), Onemic Show, Diaspora Messenger, Philsinfo, Mwakilishi, Jambonewspot & Karisan Media

BUSINESS

& ENTREPRENEURSHIP AWARD: Drew Durbin of Wave, John Ng'ang'a, George Onami, Motomoto

Kitchen

, George Wachiuri, Njenga Giggz & Dr Pamela Namai
COMMUNITY ORGANIZER AWARD: Steve Aseno, John Kamau, Julius Okelo, Patrick Nganga, Denson Kioko Kendaladies & Sue Gacambi
HUMANITARIAN AWARD: Maryann Jarady, Eunice Karanja, Dr Marie Ojiambo, Miriam Macharia, Elizabeth Mureithi & Kristen Clark Welch
LEADERSHIP AWARD: Prof Olive Mugenda, Ishmael Awino, Dr Christine Kiilu & Dr Dan Mugubi

CULTURAL

AWARENESS & PRESERVATION AWARD: Lillian Malit, Christine Muchene, Judy Ugoh, Mamachi Jarady & Dr Pam Obare Mogaka
SOCIAL MEDIA AWARENESS AWARD: Kenyans in Houston (Gody), Kenyans in USA, Kenyans in Austin (Dixon Mulwa) & KWITU (Kenya Women in USA – Lily Richards)
LIFETIME ACHIEVEMENT HONOREE: Prof Ngugi wa Thiong'o
FRIENDS OF AFRICA NOMINEE: Paul Osteen
FRIENDS OF AFRICA HONOREE: Dr Davis Haymes & Cherry Haymes
FRIENDS OF AFRICA HONOREE: Congresswoman Sheila Jackson Lee
Vote for your favorite nominees at www.mashujaaawards.com/vote-now.
EVENT: Mashujaa Awards Gala
DATE: Saturday, October 17th, 2015 – 5pm till late
VENUE: Rhim Jhim Hall – 14639 Beechnut St, Houston, TX 77083

PURCHASE TICKETS

: www.mashujaaawards.com/buy-tickets
VOTE FOR YOUR FAVORITE NOMINEES:www.mashujaaawards.com/vote-now