I meant Cord supporters will die of joy if Raila wins- Aladwa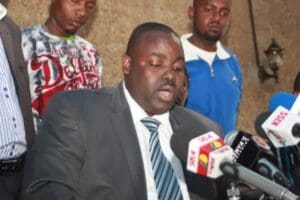 The state is investigating alleged inflammatory comments made by an opposition politician on Tuesday.
ODM Nairobi county chairman George Aladwa was captured on video warning the state against rigging the 2017 elections.
Aladwa was in the company of other ODM leaders when they addressed a public rally in Kibera and said rigging the elections will plunge the country into bloodshed.
The former mayor of Nairobi warns in the video that due to the entrenched culture of election rigging, it will "require that some people die" if Cord leader Raila Odinga is to become President.
But yesterday, he said he was misunderstood as he meant to say that if Raila wins, his supporters will die of joy.
"Nilisema watu watakufa na furaha," he told the Star yesterday.
"2017 imekaribia na sisi kama watu wa ODM tumebaki na risasi moja. This time round the outcome of the elections ikiwa tumeshinda na watunyang'anye wacha kiumane…Raila ndio awe President lazima watu wakufe kiasi."
The National Cohesion and Integration Commission and the Directorate of Public Prosecutions ordered investigations after the video, which first appeared on the Star website, went viral yesterday.
Kaparo said the video had been taken to the NCIC and analysis of the footage was being done by the commission in conjunction with the Directorate of Criminal Investigations.
He promised the NCIC will take appropriate action after the analysis.
"I was shocked to watch that video," he told the Star yesterday.
Director of Public Prosecutions Keriako Tobiko directed the police to speedily investigate the video and remarks.
"This is to direct that you cause the said person to be immediately interrogated," Tobiko said in a statement.
Aladwa had led other ODM leaders on a tour of Kibera constituency to defend Raila against claims that he fixed Deputy President William Ruto at the ICC.
Raila has been repeatedly attacked in the ongoing prayer rallies where Jubilee legislators accuse him of being behind Ruto's woes.
Aladwa dismissed the prayer rallies as a waste of time, saying Jubilee leaders are using them to spread lies.
"Even God is tired with their lies in these rallies," he said.
Aladwa insisted Raila never took Ruto to the ICC.
"Let Ruto face the ICC. He has a competent legal team. If he wins that will be okay, if he loses, that will also be fine," he said.
Bahati MP Kimani Ngunjiri asked the police to arrest Aladwa over the utterances.
He said the remarks were preparation for war as Kenyans approach the 2017 general election.
– the-star.co.ke