KDF kill 15 Al-Shabaab terrorists, destroy operations base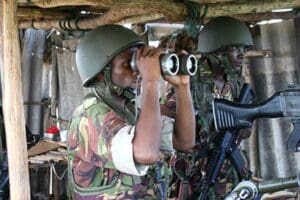 KDF troops have killed 15 Al-Shabaab terrorists in an attack on an operation base used by the militants across River Jubba in Yantooy, Somalia.
During the Sunday morning operation, two boats used by the militants to cross River Jubba were also destroyed.
According to KDF spokesman Col David Obonyo, the attack is part of the ongoing Operations 'Jubba Corridor.'
The operations are meant to prepare for the capture of Jilib, the remaining Al-Shabaab headquarters in lower Shabelle.
Yantooy is strategically situated across river Jubba and has been the main base that the terrorist use to cross the river from Jilib and infiltrate into lower Jubba.
-nation.co.ke