Kenyan woman in US admits Sh275m fraud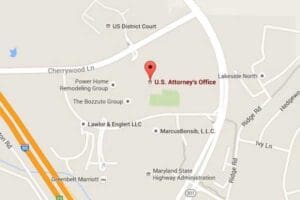 A Kenyan woman living in the United States and her husband have pleaded guilty to charges of defrauding a mental health facility of $2.7 million (Sh275 million).
Lyneth Nyabiosi Evans, 50, and Willie Evans, aka James Davis, 53, had been indicted by a grand jury in June this year for what federal investigators called "fraudulently approving of $2.7 million in payments" from a company they controlled.
Last Friday, they told federal investigators and the prosecutor that indeed they committed the alleged offences.
According to documents released by the US attorney for the District of Maryland, Mr Rod J. Rosenstein, the two were arrested after they hatched a scheme to falsely bill Ms Nyabiosi's employer, Sheppard Pratt Health System, for work purportedly performed by a company that the defendants secretly controlled between November 2005 and September 2014.
Sheppard Pratt Health System is a private, non-profit health entity in Maryland that offers mental health, substance use and special education services.
According to FBI Special Agent Stephen E. Vogit, Ms Nyabiosi, who was the director of the Health Information Management Department at the company, was responsible for receiving, organising and storing patient medical records. She was the highest-ranking employee in the department.
The couple controlled and operated an entity named Information Management Solutions Technology (IMST), which purported to specialise in record management.
On March 7, 2007, Ms Nyabiosi, on behalf of Sheppard Pratt, entered into a contract with IMST to manage medical records for Sheppard Pratt, in violation of Sheppard Pratt's conflict-of-interest policy.
From 2006 to October 2014, and to conceal the inherent conflict of interest, the defendants falsely represented to Sheppard Pratt and others that IMST was operated by an account representative named "James Davis" and "James Davies," when in fact no such person was employed by IMST.
The indictment further alleges that from 2007 to August 2014, the defendants submitted over 150 false invoices requesting that Sheppard Pratt pay IMST approximately $2.7 million.
The invoices requested payment for work that was never performed.
Ms Nyabiosi personally approved all of the false invoices, thus causing Sheppard Pratt to mail checks to IMST totalling approximately $2.7 million.
The FBI agents said the defendants deposited the money in their bank account and used it for personal expenditures, including loan and mortgage payments, home renovations, home upgrades, personal wire transfers to Africa, motor vehicle, food, clothing and entertainment expenses.
According to the FBI, in September 2014, the law firm representing Sheppard Pratt contacted "James Davis" using IMST's contact information provided by the defendants.
On September 4, 2014 and September 14, 2014, counsel for Sheppard Pratt met with Evans, who falsely represented himself to be "James Davis" and never revealed himself to be Ms Nyabiosi's husband.
Evans falsely told the law firm that he, "James Davis," alone owned IMST and was in charge of running the business.
The FBI says the defendants have agreed to the entry of an order to forfeit and pay restitution of $2,742,791, and to forfeit two residences located in Bear and Newark, Delaware, and three vehicles.
"The defendants face a maximum sentence of 20 years in prison for conspiring to commit mail fraud. U.S. District Judge James K. Bredar has scheduled sentencing for Ms Nyabiosi and Evans for February 4 and 5, 2016, respectively," a statement by the FBI concludes.
Ms Nyabiosi and her husband were residents of Bear, Delaware.
-nation.co.ke