Only a fool would take Sh1.2 billion to a village, Ruto says on lavish house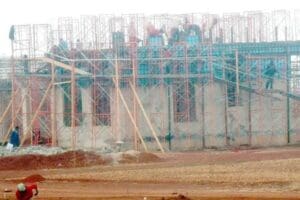 The DP has denied that he is building a pricey house in Eldoret town saying "a billion shillings is a mind-boggling amount of money" that can be used "to do miracles".
Last week, the Star established William Ruto is building a plush residence that will include a main house, guest wing, two swimming pools, a library, gym and a private airstrip.
The stately home is estimated to sit on 20 acres, part of 700 acres bought by the DP in Moiben constituency.
"Even if I was a dunderhead, do you really think – if somehow God blessed me with a billion shillings – that I would take it to the village? Really? Surely… That is ridiculous," he said.
"I am not saying I am very sharp, but surely, [I would be daft] to take a billion shillings to a village for a house I will only [occupy] for a week in a year."
He noted that the amount would be enough to build a 100-bed hotel or a 25-storey building in Nairobi town, and added that "only a fool" would spend it in a village.
Speaking during a K24 interview on Monday night, he did not deny building the house but did not say how much it will cost.
Ruto accused the Star, which published an exclusive report of the palatial house, of spreading unprecedented lies about him.
He said he helped set up the newspaper "from scratch" and that he only lacks shares in the publication.
"As long as it has existed, I am usually on the headline three times a week on a good month, and seven days a week on a bad month," he said.
The DP noted that he does not mind the stories the Star covers about him, saying he has come to realise the people do not believe them.
"The Star employs some people I know: William Pike, Paul Ilado, [Charles] Kerich and others," he said.
"If all the cooked lies help them survive, if they earn a salary – and there are Kenyans employed by the Star – I do not mind."
Regarding the cash crunch, the DP termed the Opposition "desperate", saying it is "looking for figures that are fictitious to create a story where there is none".
He described Cord leader Raila Odinga's claim that the Jubilee government is "overspending, overborrowing and overstealing" as "the biggest fallacy".
Raila had asked the government to come clean about the maintenance of foreign accounts to keep Eurobond funds.
Ruto said the sovereign bond transaction is being handled by credible international experts and institutions, and that the Sh53 billion Eurobond was used to settle a Sh60 billion syndicated loan contracted by the government.
"It is inconceivable that the government of Kenya would raise money through Eurobond and use it in a secretive manner. The prudent financial management and interventions managed to stabilise the Kenyan currency," he said.
In detailed documents, Treasury CS Henry Rotich said Sh196.9 billion was used to finance infrastructural projects and Sh52.3 billion to pay a syndicated loan.
– the-star.co.ke