Bensouda denies deal on recanted evidence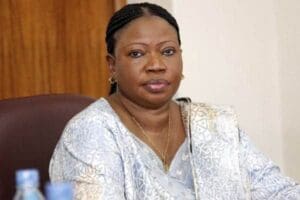 International Criminal Court (ICC) Prosecutor Fatou Bensouda has denied that she promised not to implement new rules on the use of recanted witness testimony in Deputy President William Ruto's case.
"The Prosecutor emphatically denies that she, or any member of her office, gave such an undertaking," Ms Bensouda said in response to an appeal by Mr Ruto and former journalist Joshua Sang.
She said even if such an assurance was made, it would be legally irrelevant as it would not reflect the collective will of states that are party to the Rome Statute.
The provision referred to as Rule 68, was passed at the Assembly of State Parties conference in 2013.
Mr Ruto and Mr Sang, who are facing charges of crimes against humanity arising from the 2007-8 post election violence, had appealed against the decision to allow the prosecution to use the recanted testimony of five witnesses declared hostile by the court.
Mr Sang, through lawyer Katwa Kigen, claimed an audio recording is available to prove that an officer from the prosecutor's office assured the Kenya government that Rule 68 would not be implemented in the case.
A similar claim was made by the African Union, which was allowed to submit its opinion as a friend of the court.
Mr Ruto and Mr Sang, who are accused of crimes against humanity, also asked the ICC Appeals Chamber to overturn the Trial Chamber's decision, saying it did not correctly interpret the rule's requirement on retroactivity.
UNJUST DECISION
However, Ms Bensouda said the law on retroactivity would only apply if it goes hand in hand with the fact that such a decision would be to the detriment of the accused.
She added that even prior to the amendments, there were provisions in the Rome Statute that permitted admission of prior recorded testimony.
"The unamended Rule 68 could not have barred this right and duty, especially given the very serious challenge that witness interference poses to any court," she said.
In his appeal, DP Ruto's lawyer, Mr Karim Khan, also said the decision by the Trial Chamber was unjust as he was not given enough time to investigate claims in the contentious testimony.
Ms Bensouda, however, said she notified Mr Ruto of her intention to admit prior recorded testimony of "compromised witnesses" since January 2013.
She asked the judges to reject the appeals and affirm the Trial Chamber's decision, saying Mr Ruto and Mr Sang had failed to give concrete reasons why the Trial Chamber's decision should be reversed.
The hearing continues.
-nation.co.ke