Thousands stranded along Mombasa-Nairobi Highway in a three-day raffic jam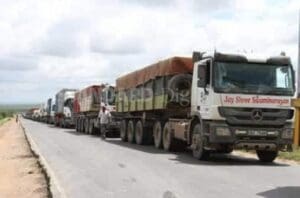 MOMBASA, KENYA: Mombasa town remained cut off from the Kenyan mainland for the third day on Thursday following heavy rains and an uncontrollable traffic jam caused diversion from the main Mombasa-Nairobi highway.
Thousands of passengers in hundreds of trucks, private cars and buses are stuck on an 11 kilometre stretch near Taru township in Kwale county amidst growing anxiety over what will be done to unlock the three day jam.
Mombasa town and its environs which depend for most of their food supplies, newspaper and other commodities from upcountry was running shot of food and other produce in key markets like Kongowea and Mariakan
Students returning from school have been stuck on the journey since Tuesday, a journey that normally takes a maximum of 10 hours.
Coast governors led by Mombasa governor Hassan Ali Joho asked President Uhuru Kenyatta to intervene to end the current crisis and end the perennial problem. Joho said that apart from occasion torment to individual travelers, the traffic chaos has led to a slow down to tourism, preparation for Christmas festivities and the local coastal economy.
"I strongly urge H.E President Uhuru Kenyatta to intervene and instruct the relevant departments to take immediate action and manage the current situation," said Joho on Thursday morning adding that the "festive season is just around the corner and a multitude of tourists are expected in Mombasa County for the New Year's celebrations via the same route."
Joho said it has become extremely difficult to get in and out of Coast region by road leading to food shortage and interruption of businesses which depend on supply upcountry.
"Food supplies from upcountry have become irregular, getting cargo out of the port to its various destinations across the East and Central African regions has become a challenge, and it has even become impossible to get a newspaper," said Joho.
Traffic flow along the busy Mombasa/Nairobi highway was interrupted for the better part of Wednesday, Tuesday and yesterday after heavy rains that have been pounding parts of the country made the road impassable.
The problem was compounded by heavy commercial trucks which resorted to overlapping to beat the growing jam which by mid-day yesterday had stretched all the way from Taru to Samburu, a distance of 40 kilometres.
In a brief statement by the Kenya National Highways Authority (KeNHA) , the jam which led to delays  was occasioned by trucks overlapping  and obstructions on  the vital highway.
-standardmedia.co.ke