Kenyan-born linebacker accused of assaulting lover in US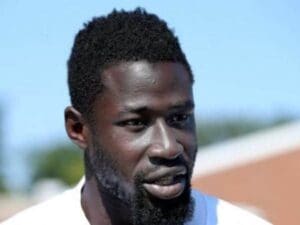 A Kenyan-born linebacker who played in the US National Football League has been accused of assaulting a woman between October and December.
Daniel Adongo's personal conduct is being investigated after a woman he allegedly lived with told police she feared the former Colts linebacker, and did not want him to return to their residence in Fishers, Indiana.
However, she did not present any evidence in reference to these incidents, reported Sahara Tribune on Sunday.
In the past three months, police have been called to Adongo's home twice to investigate potential domestic violence.
Last week, the linebacker was dropped from a game after the Colts released him from the team, which could hinder him from ever playing in the League again.
The team gave no reason for the decision as coach Chuck Pagano did not comment on whether it was related to Adongo's personal conduct.
On December 10, police went to the home after Dawn Monks, who said she is a friend of the victim, claimed she had received text messages from the woman reading "911" and "Help."
Police said they went to the home, announced themselves and let themselves in after their knocks went unanswered.
The woman agreed to speak to police but kept a blanket "completely covering her face and body."
The officers said as she tried to adjust the blanket, they noted she had a black left eye, a large cut on her lip and marks on her lower wrists.
But the woman would not say who lived with her or how she got hurt and insisted she "caused these marks to herself because she is crazy", telling officers "everything was fine".
Monks later went to the police station and reported the victim admitted to her that Adongo caused the marks.
Adongo had previously "kicked open the bathroom door, grabbed the woman by the throat and held her underwater in the bathtub", Monks said.
He also "punched multiple holes in the walls and damaged appliances, the woman's car, furniture and cell phones".
Hamilton County deputy prosecutor Amy Summerfield said in a statement that no charges would be filed and the case was closed.
On October 24, Adongo went to the Fishers Police Department where officers were speaking with the victim, saying he would not stay at the home that evening and was going to end the relationship.
The report stated that Adongo had an "open case" with the NFL and was limited on what he could say.
"Adongo advised the information (the woman) provided is inaccurate and the NFL Investigators have all the information to prove that," read the report.
Before signing with the Colts in 2013, Adongo played professional rugby in South Africa, where he attended college.
He was the first player from Kenya to play in the NFL.
-star.co.ke