Ruto asks Ugandans to vote for Museveni in 2016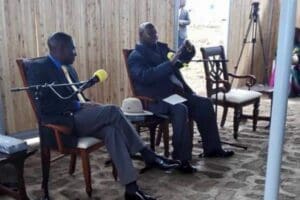 Deputy President William Ruto has asked Ugandans to vote Yoweri Museveni in 2016 for his "great stewardship".
Museveni, 70, has been in office for close to three decades and is expected to vie for another term under his National Resistance Movement (NRM) party.
"I don't have to campaign for His Excellency Museveni in Uganda because he has the capacity and experience to win an election on his own," Ruto said.
The two leaders addressed a joint press conference at Kapchorwa State Lodge in Uganda on Wednesday.
Ruto and Museveni reiterated their commitment to East Africa's economic growth and asked the countries to enhance democracy and fight tribalism and regionalism.
The DP said: "My presence here is to confirm Kenya's partnership with Uganda to promote trade and commerce in the region. We all need to work together to harness the potential of all our people."
He underlined that political parties help prevent "ethnicisation of politics" and steer democracy.
On October 10, Ruto described Uganda Opposition leaders who visited their Kenyan counterparts to discuss winning elections as "losers".
"How can the Opposition from Uganda travel to Kenya to seek help from their counterparts on how to win an election and yet they are all losers?" he posed.
"They should have come to consult us on how to win an election if they were serious in their mission."
The team from Uganda met Cord leader Raila Odinga on October 4 for views on fielding a joint presidential candidate against Museveni in the 2016 general election.
Earlier that month, the Uganda president said Ruto's ICC case should be terminated as he and President Uhuru Kenyatta have worked at uniting the public following the 2007/8 post-election violence.
– the-star.co.ke