Wetangula sues BBC for defamation over BAT bribery report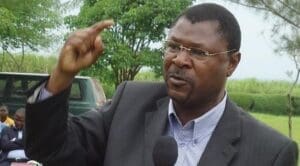 NAIROBI, Kenya, Dec 22 – Bungoma Senator Moses Wetangula has filed a defamation suit against British Broadcasting Corporation for linking him with bribery allegations by British American Tobacco Company.
In an urgent application at the High Court, Wetangula says that he was defamed by BBC in its programme known as Panorama, which allegedly portrayed him has having solicited the purchase of an airline ticket to London for his wife.
The programme, he says revealed that the Senator was corruptly involved in a corporate scandal in which BAT bribed him while he was serving as Trade Minister in 2012.
The Senate Minority Leader through Senior Counsel James Orengo, says that the article has been used as a basis of unjustified attacks against the senator by his political rivals and civil society.
Orengo argues that the report is false and malicious and cannot be true.
"It is difficult for the senator to perform his duties and functions under the cloud of defamatory story which is causing him stress, anxiety and embarrassment," the lawyer says in court documents.
The civil suit will be placed before a Vacation Judge for direction as to the orders staying further publication of the alleged defamatory story against the senator linking him to bribery and corruption.
Wetangula has denied allegations that he was bribed by British American Tobacco Company, terming the claims as 'nauseating, unfortunate, scandalous, malicious and slanderous to the extreme'.
He was part of the Kenyan delegation that accompanied President Kibaki to the London Olympics which also coincided with an Investment Conference for Kenya at the time.
"I did travel in my capacity as the Ministry of Trade in the Grand Coalition Government. My travel and subsistence expenses were paid for by the then Ministry of Trade. Records to this effect are available at the Ministry," he said.
The report also claimed NARC-Kenya Leader Martha Karua received about Sh7 million bribe from BAT in a bid to block a rival firm from winning a multi million shillings contract.
However, Karua in a response says she was aware of a donation to her campaign from an individual affiliated with BAT, but refutes the claim that it was in exchange for government favours.
The report claims that in return for the donations, paid in cash via a middle man, BAT obtained key confidential Kenyan Revenue Authority (KRA) documents outlining the £100m five-year contract for new technology designed to stamp out tobacco smuggling.
They then had the contract deliberately delayed while they secretly lobbied to get their own system chosen.
Karua, admitted to receiving Sh2 million donation towards her election campaign, from a businessman named Paul Hopkins who said he affiliated with BAT.
BAT has already dismissed any bribery claims and attributed the report to vendetta orchestrated by former employees.
-capitalfm.co.ke