DESPICABLE!! How Cons are Using Dead People's Obituaries to Make Money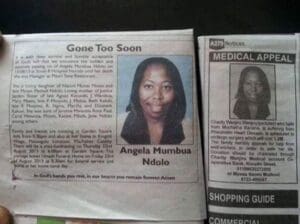 Photos:Kenyan cons have taken their shameless trade to a whole new level of despicable proportions.
Without an iota of respect for the dead and their loved ones, these cons buy newspapers mostly for the obituaries section. While the bereaved go out of their way to mourn and spread the news of the passing of a deceased loved one, these unknown cons use the obituary photos to appeal for medical assistance from unsuspecting Kenyans.
A photo of one such case has surfaced on social media showing cut outs of an obituary article and another of a medical appeal, both with a photo of the same person.
Check it out
– nairobiwire.com