Kenyan troops 'pull out from El-Adde'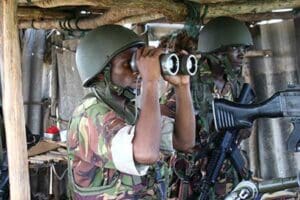 Kenyan forces have pulled out from a military base in Somalia which was attacked by militant Islamist group Al-Shabab, residents say.
Al-Shabab said it had killed about 100 troops in the assault on the base in the south-western town of El-Adde.
An army spokesman said there was a "normal operational manoeuvre", and it could not be called a withdrawal.
The Kenyan military has not said how many of its troops were killed in the January 15 attack by the Al-Qaeda-linked group.
Kenya contributes about 4,000 troops to the 22,000-strong African Union force battling the militants in Somalia.
WELCOME PULL-OUT
Residents in El-Adde told the BBC they welcomed the pull-out, as they had been subjected to constant harassment and air strikes from Kenyan forces since the assault on the base.
Several civilians had been killed during the Kenyan operation, they added.
In a BBC interview, army spokesman Col David Obonyo denied this, saying only an Al-Shabab camp had been targeted.
Kenya has said that the bombs used by insurgents at the El-Adde base were three times more powerful than that used by Al-Qaeda in the 1998 US embassy attack in the capital, Nairobi, which left 224 people dead.
Col Obonyo said some of the soldiers killed in El-Adde had been identified, but DNA tests were still being conducted to identify the rest.
-nation.co.ke