Matatu crew 'lock up' traffic cop for demanding Sh10,000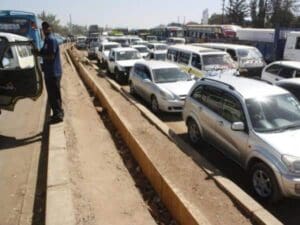 A traffic policeman was locked inside a matatu along Thika Superhighway for allegedly demanding Sh10,000 from the crew on Wednesday morning.
The officer attached to Pangani Traffic Base reportedly flagged down the Nazigi Sacco PSV at Survey of Kenya area and asked for the cash, but did not state the offense committed.
"I know him. He told me he needed fees for his children whom he said go to a school in Machakos," said the tout who sought anonymity for fear of intimidation.
"I pleaded with him and told him I have married from his Ukambani backyard but he did not listen. He arrested us at 7am and took us around for more than an hour before we parted with Sh2,000."
The conductor said he mobilised other matatus which blocked the road near General Service Unit headquarters.
"I asked the officer to return my money but he refused. I told him I had marked the money. When he saw the markings he immediately dropped the notes," he said.
A witness said the officer escaped and boarded a matatu bound for Baba Dogo.
Pangani traffic boss Jennifer Mutuku said she was not aware of the incident. She told The Star on phone that she would ask officers in the area for details.
-the-star.co.ke