Blind Kenyan girl in New Jersey needs help to stay in school
Blind Kenyan girl in New Jersey needs help to stay in school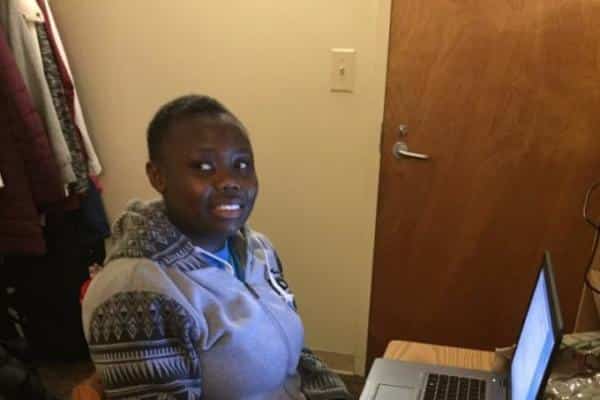 A blind Kenyan girl in New Jersey is appealing for help to continue her college education in New Jersey.Laura Etori was born seeing but one day she got a headache that never stopped and life changed completely for her and now she is blind. Kindly read her story below.
One day I was sighted and then next day I was blind…
My name is Laura Etori. I was born and raised in the rural neighborhoods of Central Kenya, but regardless of my background I was always an optimistic person with goal in life. I dreamed of becoming an actuary and worked hard to achieve my aspirations.
One day I got a headache that did not stop. The pain was so paralyzing, I could not substantiate it to anything and till today I can never know what kind of pain would be equal to what I felt. It was so painful that I did not even realized that I was loosing my sight. I went to all hospitals in Nairobi with my family and saw the best doctors we could find, but they could do nothing to stop the pain. Eventually, I had to go to India for further medical evaluation and treatment.
By this time we had spent all the money we had and this had to be the last resort for us. Through God's grace the doctors there were able to find a solution to my problem. I had suffered from idiopathic intracranial hypertension (IIH). This is a very rare condition that affects girls in the age brackets of 18 and 23, and unfortunately I was 18 at that time. Its secondary effect is damage to the optic nerve hence subsequent loss of sight and if persistent it could lead to brain damage.
I do not know if I can say that I was fortunate, but I was certainly lucky to stay alive and not suffer a brain damage.
With loosing the sight, I also lost the meaning of my world. It vanished and there was no way to get it back.  I lost my identity and all I had learned for eighteen years through my eyes. It was all gone and I could not find it, because  I had plunged into this kind of darkness that not only affected my sight but my whole being.
Then, I had to learn to leave, learn everything from scratch and figure out what to do with my life.
My situation was different from when I had completed high school and this made it difficult for me to secure a place, and the place I had secured was lost due to the simple fact that the universities in Kenya were not adapted to teaching a visually impaired person STEM subjects. I wanted to pursue actuarial science, as a finance major but it simply was not possible. I pushed harder than I ever had to get that opportunity. Up to now it has never dawned to me why the best public university in Kenya would not accept me and I had the grade required. Nevertheless, I did not lose hope, I applied to schools in America and fortunately I got accepted to Rutgers University in Newark. I knew this was going be very hard to come to the foreign country by myself , but I knew I had to take this chance and follow my dream because I have bigger things that I want to achieve.
Now that I am in the United States, I have to go through many more obstacles. This semester, my family was unable to collect $20000 to pay for my term bill (since I am an international student, my tuition is much more expensive than that of in-state students).
To arrange the three months payment plan, I have to come up with one third ($6700) of the amount at the moment of the enrollment in the payment plan. The dead line is FEBRUARY 4th, 2016. Which is TOMORROW.
For the past couple of weeks and days I tried to speak to nearly everyone on campus to get some kind of extension. I was given five extra days to find the first payment of $6700. If I won't pay by then, my student status will be revoked. But what's worse is that I will have to go back to my country and forget about my dreams and educational aspirations since I won't be able to afford to expenses of reinstatement.
Please help me to achieve my goals and stay in school!
I would appreciate any help, whether it is a donation or a word of advice.
Thank you for your support!
Laura urgently needs to  raise $5000 before the end of this week to Pay her international tuition bill @ Rutgers University, NJ for this semester. She had a GPA of 3.8 last semester. Thanking you in advance for your generosity.
To support,kindly click – https://www.gofundme.com/uhmxpxy4
or Bank Account : PNC Bank, Laura Etori: Acc: 8111311289
For Contact:
Anne Waiharo-(201-898-3307)
Laura's mother, Anne Etori (201-455-1704)
Blind Kenyan girl in New Jersey needs help to stay in school