Corridors Of Power: Jubilee worried about Raila Odinga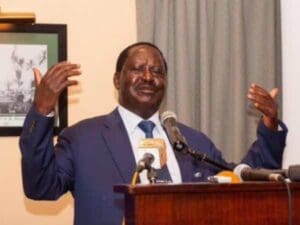 That Jubilee is worried about what Cord leader Raila Odinga is up to is not a secret. Corridors overheard some senior Jubilee leaders at a club discussing the Cord leader and his plans for next year's elections. One leader was clearly worried that the ODM leader seams to be ahead of Jubilee in terms of planning.
***
What could be happening in the police service? We are told a man who recently went to seek help at the Nairobi CID offices was alarmed to find 18 of 22 officers are from one ethnic group. He found they converse in their mother tongue and transact official government business when the other four officers are not around. The man now wants the Inspector General of Police and the National Police Service Commission to urgently investigate the matter, if they care for the good of this country.
***
A senior intelligence official has been receiving thousands of shillings from a crooked Eastleigh businessman with an office in the CBD, for protection. The businessman, who has a penchant for grabbing public land, including a primary school playground and a hospital land in Eastlands, has been been bragging he has "pocketed" all security agents who dare investigate him. On February 19 last year, the businessman sent the intelligence officer Sh9,000 through his aide for unknown services. It is just a matter of time before the businessman's network crumbles.
***
Did a senior judge buy a multimillion-shilling property in the city's plush Vipingo Ridge and then import furniture from Malaysia for the home? Sources whisper to Corridors about the deal, with questions about the judge's source of income. According to the source, CJ Willy Mutunga must insist on a lifestyle audit of the entire judiciary before he leaves office. Supreme Court judge Philip Tunoi is currently battling a Sh200 million bribery allegation.
-the-star.co.ke