Ensure Diaspora Kenyans vote in 2017, Dr Mutua tells IEBC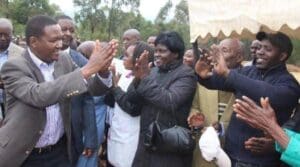 DAR ES SALAAM, Tanzania, Feb 5 – Machakos Governor Dr Alfred Mutua has urged the Independent Electoral and Boundaries Commission(IEBC) to ensure that all Kenyans in the Diaspora and especially those in East Africa countries participate in the 2017 General Elections.
Mutua proposed that the elections be delayed if Kenyans living in other East African countries are not allowed to vote.
IEBC has said that only a country with over 3,000 Kenyan voters residing there qualifies as a polling station.
The voters in the Diaspora can only vote for the President and in a referendum.
But Mutua said some countries had less than the required number of Kenyans living there adding they risked being locked out of the voting process due to the IEBC requirement.
"They must be allowed to vote so as to exercise their constitutional right to elect the leaders they deserve. Voting is not a favour but a right for every Kenyan regardless of where they are," said Mutua.
He said pressure must be put on IEBC to put in place mechanisms for all those outside the country to vote adding locking them out of the process was unfair and unconstitutional.
IEBC has already said that the registration of Kenyan voters in the Diaspora will take place between March 10th and 24th, 2017.
Mutua was speaking to hundreds of Kenyans in Dar-es-Salaam in Tanzania on Thursday evening during a forum organised to discuss the potential of investing in Machakos County by investors living Tanzania and where he was the keynote speaker.
The Machakos Governor encouraged the Diaspora to invest in the county saying it had the potential for better returns.
"That's why I keep on saying the solutions for the problems facing our country will come from Kenyans. We must invest back home," said Mutua.
He told the investors that his Maendeleo Chap Chap movement was committed to focussing on politics that is based on development and not empty promises.
Mutua said there was need for people focussed leadership adding most of the leaders were self centred and concentrated on politics of seizing and controlling power.
"We are tired of politics of poverty. We need politics of development and that's why I always insist that there is no romance in poverty," said Mutua.
He said those leaders opposing the movement were afraid of the paradigm shift of politics that focuses on the people and not self interests.
-capitalfm.co.ke