Uhuru sends 45 students for irrigation training in Israel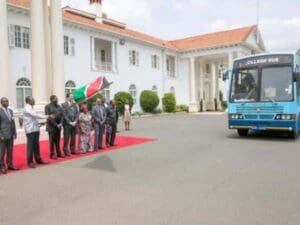 President Uhuru Kenyatta has flagged off 25 Kenyan students travelling to Israel for irrigation studies in an effort to boost Kenya's food production.
The three-week programme will benefit 45 students from Kenya Water Institute (KEWI) in a scholarship by the Israeli government. The President flagged off the first group of 25. The second one of 20 students will travel to Israel after the first returns.
Speaking during the occasion at State House Nairobi, President Kenyatta said Kenya is keen in training the necessary personnel to help the Government achieve its agenda on national food security.
"Irrigation is key to food security. Gain knowledge and bring back the skills you will acquire. Also train other Kenyans on modern irrigation technology when you return," he told the students.
The Head of State pointed out that the government chose Israel because of its advanced technology that has enabled the country to remain food secure despite its scarce water resources.
Israel is the world leader in water recycling and a major exporter of fresh agricultural produce even though more than half of the land is desert.
Israel Ambassador to Kenya Yahel Vilan urged Kenyans training in his country to be "agents of change" in irrigation farming.
Water and Irrigation Cabinet Secretary Eugene Wamalwa, Chief of Staff Joseph Kinyua and Kewi officials were at the function.
-the-star.co.ke