Kenya-US direct flights may start in May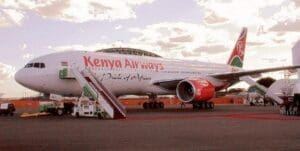 Direct flights between Kenya and the United States commence may commence in two months, if the National Assembly approves new aviation Bill.
The Kenya Civil Aviation Authority (KCAA) says it is on course to achieving International Air Safety Assessment (IASA) category one status, allowing locally registered airlines that meet the US standards to launch direct flights.
It is now upon the national assembly to hurry and pass into act the 'Civil Aviation Amendment Bill 2015' which will align local aviation regulations to international standards. It is expected to form the basis of operations of the US-Kenya flights, Transport Cabinet Secretary James Macharia.
The Bill is already in parliament; it increases the regulatory powers of the Director –General KCAA, giving it unrestricted access into all aircraft within local borders including their documentation.
"The country is on course to achieving category one status by May 2016 as the target date for commencement of direct flights to the US," Kenya Airports Authority said in a statement on Tuesday.
Transport Cabinet Secretary James Macharia ascertained that all relevant audit requirements by the US aviation authorities are complete, "the dream of direct flights between the two countries is within reach."
Also, Yatich Kangugo managing director KAA said that the near launch of terminal 1A is part of the preparations towards achieving the May US-Kenya flight target. The terminal will increase JKIA's capacity by 2.5 million passengers.
-nation.co.ke