Sick Kenyan Woman Catherine Wambui Wanyoike Stranded In Saudi To Return Home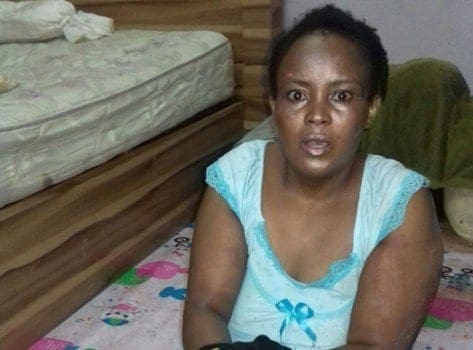 A single mother of four, who has been stranded in Saudi Arabia for several weeks, has finally gotten her travel documents and will soon return home.
This follows the intervention of the Foreign Affairs office in Nairobi, through the Kenyan Embassy in Riyadh.
Catherine Wambui Wanyoike, 36, ran away from where she had been working for the past 18 months after her employer refused to take her to hospital for medical attention and instead locked her up in the house for six months after she fell and injured her left knee while taking her employer's children for a walk.
Her plight came to light after her family made an emotional appeal to the government to help them bring her back home so that she can seek medical attention.
After her plight was highlighted by Nairobi News last week, Catherine Wanjiku, a Kenyan residing in Jeddah in Saudi Arabia, took her to a local hospital.
Before being taken to hospital, Wambui was in a state of depression and when paramedics were called to take her to hospital they also needed police officers to help restrain her.
THANKFUL FAMILY
She was then taken to King Abdul Aziz Hospital in Jeddah on February 27, 2016, where the following day a government official from the Kenyan Embassy in Riyadh visited her and took her details.
She was discharged on Tuesday March 1, 2016 and spent the night with Catherine Wanjiku. The family only learnt on Wednesday that her emergency travel documents were ready after they visited the Foreign Affairs offices in Nairobi and an official told them that her papers were ready.
"We were informed by Washington Owuor who works at foreign affairs offices in Nairobi that someone in Saudi Arabia has her documents," her sister told Nairobi News on the phone.
After receiving her travel documents Catherine Wanjiku took her to a deportation camp so that she can await for her air ticket before traveling back to Kenya.
The family thanked the government and everyone involved in helping highlight the plight of their daughter.
"We are extremely happy for what everyone has done to help my daughter and we are praying that she comes home as soon as possible so that we can give her the medication and treatment she needs," Catherine's mother told Nairobi News.
Sick Kenyan Woman Catherine Wambui Wanyoike Stranded In Saudi To Return Home