Five Kenyan ladies who captured the hearts of foreign men
Five Kenyan ladies who captured the hearts of foreign men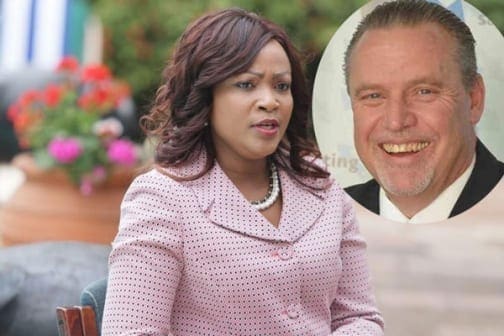 There are foreigners who came to Kenya to work, but hey! love called, they fell head over heels and decided to stay. They came as diplomats, doctors, engineers, journalists, aid workers, artists and corporate honchos, the latest being Bob Collymore- the Safaricom CEO.
By now, you know he recently got married in an invite only, white and purple themed affair to artist Wambui Kamiru in Nairobi's Kitisuru area. But when Bob first came to Kenya he was accompanied by his odiero wife and daughter.
That was in 2010 when he took over the running of Safaricom and gradually had friends from the showbiz circles like gospel musician Juliani, Jimmy Gait and media personality Julie Gichuru as his friends.
Two years later, rumours emerged that he had split from his wife and was dating the mother of twins.
Until last weekend many Kenyans had no clue of the woman who stolen Bob's heart-Wambui Kamiru- the founder of The Art Space. According to her blog, the woman who studied African history at Cambridge University says The Art Space, is an independent commercial art gallery on Nairobi's Riverside Drive where works themed along colonialism, identity and uhuru in Africa find a home (and buyers).
Indeed, Bob's wife could be said to be the first local woman who's an artist and galleryowner the others like the late Ruth Schaffner of the defunct Gallery Watatu, having been a foreigner while the likes of Elimo Njau of Paa Ya Paa Art Gallery and Shine Tani of Banana Hill Art Gallery, are men.
The wedding left social media awash with photos that emerged of a celebration wherecelebrities and highprofileKenyans joined the couple in celebrating their union in which Bob chose a casual, collarless white linen outfit and his bride, a knee-length sheath dress. One image showed white petals being thrown at the couple while another was of the couple cutting an ombre-purple cake.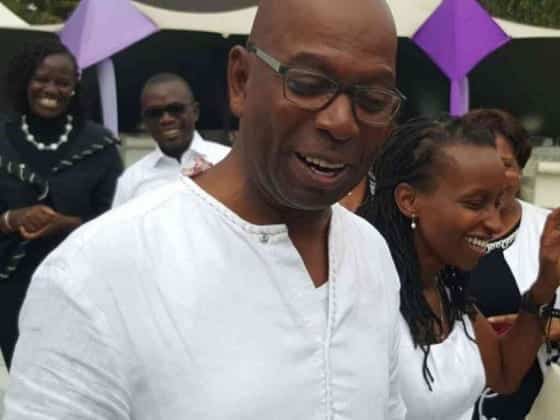 Bob Collymore as the face of arguably the most visible company in Kenya enjoys celebrity status and appears more Kenyan than some although he was born in Guyana, lived and worked in the UK but now appears to have fully made Kenya his home.
Wasn't Bob awarded the Moran of the Burning Spear (MBS) in 2012? That means Bob joined billionaire Saudi Prince Alwaleed bin Talal, who owns the Fairmont Norfolk, as the other foreigner awarded a State honour. Retired President Kibaki awarded the Prince, who's the world's 22nd richest person, the Order of the Golden Heart of Kenya in 2005.
In a past interview with international press, Bob said he felt Kenyan.
"Now I say, 'me I'm Kenyan, me'," he is quoted as saying mimicking the peculiar Kenyan way of speaking.
Before he began working in the corporate world, Collymore said he enjoyed making oil paintings until his mother nagged him into to get a 'proper job'.
The flamboyant CEO with a passion for flying and music seems to have fallen in love with Kenya… and it's women too… and he's not alone.
How Bill was laid
Former chief executive of what was CMC Holdings, Bill Lay, could not hide his joy after being granted Kenyan citizenship in 2015, in what would end run-ins with the Immigration Department over his work permit.
"I am proud to be Kenyan. I waited two years to get this," said the 61-year old who was later appointed to head KK Security's oil and gas division. Lay received his citizenship after 30 years, in which time he had met and married Joyce Wanjala Mwakalindo, currently the Taita-Taveta County MP, whom he met during the 1998 bomb blast memorial service and later married in 2007.
They later divorced citing "irreconcilable differences."
Michael Ranneberger: Ruth Konchellah is my queen
Former US Ambassador to Kenya, Michael Ranneberger, served in Kenya for only five years to 2011. But this was enough time for him to find love and get married. The American who was heavily involved in Kenya and Somalia relations, married his long-time Kenyan girlfriend, Ruth Konchellah in a low-key civil ceremony at the Attorney-General's Chambers in Nairobi four years ago.
Ranneberger visited Sheria House with Ruth Konchellah on a Friday mid-morning and married his love in the presence of witnesses. The former US diplomat had publicly admitted to being in love with Konchellah, a charity worker he met while on official duty to Trans Mara in the early days of his diplomatic tour.
"While attending a women's rights event in a small village of Enoosen in Trans Mara, I was impressed by the way she talked on behalf of women. I took notice. At a personal level, I have been fortunate to become a king to a certain lady, and she became a queen to me. That, to me, is a very fulfilling experience…these things happen. Opportunities come by and one can only be grateful when these things happen that way," Ranneberger is quoted as saying at the time.
David Sanders and Patricia Amira
David is a media professional who worked with magazines such as Smash hits, Q, Empire and Marie Claire in the UK, but has lived in Kenya for 18 years in which he has worked for Worldspace, TNT and Capital FM.
The former executive producer of Coke Studio Africa and M-NET's prime TV talk show, The Patricia Show now owns his production company, Mandala Media.
"I first came to Nairobi for personal reasons. My ex-wife used to work here. I quickly fell in love with the country and decided to settle here," Sanders who is married to Patricia Amira told The Nairobian.
He recently applied for citizenship and is confident that ir will be granted soon," I really love the people here and totally enjoy working with them, Every day is a new opportunity for me," said Sanders who is originally from Scotland.
He is also one of the founding members of the Single Malt Club which devotes itself to occassional whisky tasting.
Andrew White and Joy Mboya
Andrew White came to Kenya over 20 years ago and in the fullness of time, became one of the best ad men, creating memorable commercials for Trust condoms. In particular, the one of an umbrella being sheathed with a condom during a downpour.
White was at some point the second largest shareholder of Scanad Group until he offloaded a substantial stake and opened his own agency.
But hey! You also know him as the hubby to famed musician Joy Mboya who runs the GoDown Arts Centre.
White was in the news over allegations of attempts on his life by a hitman allegedly hired by politician Betty Tett to eliminate him after he took most of the ad jobs that were done by Betty's agency
– SDE
Five Kenyan ladies who captured the hearts of foreign men