Give opposition leaders seats in parliament to end protests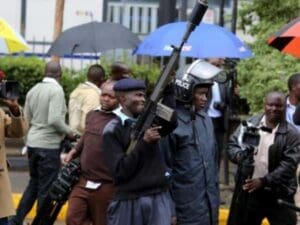 Give opposition leaders seats in parliament to end protests
Kiambu Governor William Kabogo wants the law amended to allow opposition leaders to get seats in Parliament when they lose general elections.
Kabogo said that this will ensure an end the hooliganism, riots and provocations as seen in demonstrations to eject IEBC commissioners from office.
The Governor, who urged leaders to dialogue on cleaning up the commission, said such energies should be diverted into serving Kenyans.
There should be a clean-up at the IEBC "as they are not saints", he said, but noted that this should only be through the use of systems that do not involve throwing stones.
"As leaders we should behave ourselves. We have a country to take care of and should not be pushing members of the public into being teargassed. Let us divert the energy into productive work," he said.
The governor also wants government officials participating in early campaigns charged.
Kabogo said on Thursday that such leaders were unnecessarily putting the country in the election mood instead of focusing on serving wananchi better.
"This is not the time for election. We have one more year and four months if the elections are going to be in August," he said.
"The time for politics is yet to come. The job we are doing for common mwananchi is too important to be ruined by politics."
He spoke at the Kiambu county headquarters during the awarding of certificates to 466 beneficiaries of the Vusha Youth empowerment programme.
The programme is an initiative of the county government and Africa Center for Women Information and Technology (ACWICT) and is funded by the Rockefeller Foundation.