THE DAY KIBAKI ENTRUSTED ME WITH HIS PRESIDENTIAL JET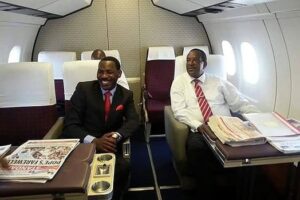 The Kenya Film Classification Board (KFCB) chief executive Ezekiel Mutua has revealed details of his sojourn to the landlocked countries in the region aboard former President Mwai Kibaki's official plane.
Mr Mutua says that, just before the 2013 general election that brought the Jubilee government to power, then President Kibaki sent him and then Cooperative Development minister Joe Nyagah as emissaries to the regional presidents –with his plane.
"Joe and I had been sent by Kibaki with a goodwill message to five Presidents in the region. We were nearing the 2013 general election and our neighbours were afraid that there could be a post-election violence in Kenya and that that could affect the flow of goods to those countries," wrote Mr Mutua on his Facebook.
'TRUSTED MEN'
"The President sent 'his trusted men' to assure our neighbours that Kenya had put mechanisms in place to avert the 2007/8 like PEV, that the elections would be peaceful and that they would continue to get uninterrupted services through the port of Mombasa and our roads across the borders."
He went on: "So there we were flying from one capital to another and holding serious meetings with Heads of State."
The Nairobi News could not independently authenticate Mr Mutua's claims.
Mr Mutua was responding to a tease on NTV's The Trend after he posted pictures of him in a first class lounge at an airport abroad.
On The Trend, the pictures were captioned: Mutua praises God in First class, something that the KFCB head did not take kindly.
-nairobinews.nation.co.k
THE DAY KIBAKI ENTRUSTED ME WITH HIS PRESIDENTIAL JET