VIDEO: Kenyan native named U.S Armed Forces chef of the year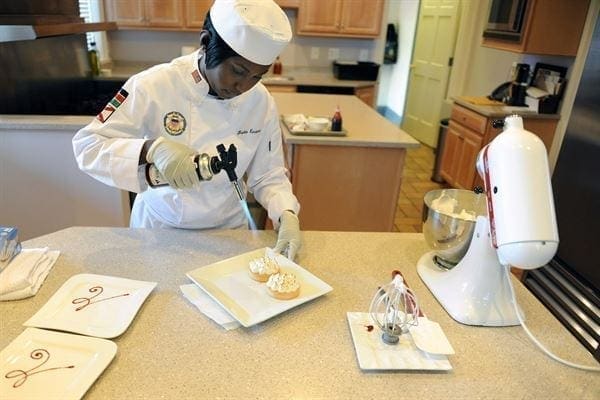 Petty Officer 1st Class Frida Karani, a Navy culinary specialist and 2016's Armed Forces Chef of the Year, has a secret: she doesn't like a kitchen that's too peaceful.
The enlisted aide to the vice chairman of the Joint Chiefs of Staff earned her title March 18 at Fort lee, Virginia. She admitted she was initially rattled by the competition's challenge to prepare gourmet courses without prior knowledge of the required ingredients, but said training and adrenaline ultimately paid off.
"With cooking, you need to be multitasking. … A peaceful kitchen makes me nervous, but there's a calmness of the chef that knows what's going on," the Kenya native said. "The last minute of cooking is what counts — you can prepare, but [when] you're about to serve, that's when the adrenaline kicks in."
For Karani and the other 21 hopefuls from across the services who had four nerve-wracking hours to bring their mystery-basketcomponents from conception to presentation, a fair amount of work led up to smelling sauces, checking meat temperature and assessing vegetable tenderness, she said.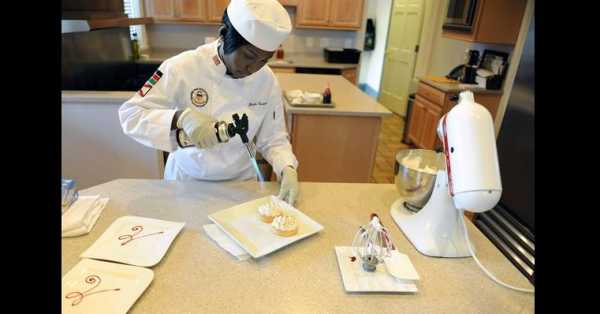 U.S. and international military teams trained together for up to a year in preparation for the event, which promotes culinary excellence with a focus on ability, practicality, nutrition, workmanship, economy, presentation, creativity and concept.
The competition recognizes individual and team efforts through certificates, medals, trophies and continuing education credit that may be used toward credentialing.
A Taste of Home
Growing up in the coastal Kenyan region of Mombasa with her grandmother and parents helped to inspire the unique and creative dishes she serves to the vice chairman, other service members and dignitaries for various events, Karani said.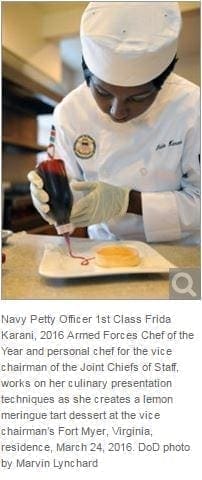 Though her grandmother saw cooking as a step toward marriage for a young woman, she added, she set her sights instead on a culinary career through the skills she developed at home and later in formal education, restaurantsand an internship.
She arrived to the United States as an exchange student in a hospitalityprogram in Orlando, Florida, before visiting the Le Cordon Bleu culinary school there. A year later, she graduated summa cum laude with an associate's degree. During her ensuing internship, she met a Navy recruiter, she recounted. "I wanted to travel, experience different things, and serve the country so I decided to join the military," she said.
Life of the Enlisted Aide
Cooking, Karani noted, is just one aspect of an enlisted aide's myriad duties, which can include organizing uniforms, running errands, and seeing to the details of meetings and events.
But meal preparation, she acknowledged, is perhaps the most visible, memorable task and display of diplomacy for enlisted aides.
Karani explained that she and her team work with guests' protocol staffs to ascertain personal food preferences, allergies and dietary requirements as they develop inventive menu ideas together. "We do lot of Hawaiian dishes, a little bit of Caribbean here and there, so that way, we have a little of ourselves, our personalities, in the meals that we serve to whoever is sitting down."
Reactions Provide Motivation
And just beyond her pride in the finished product, Karani said, she takes even greater pleasure in seeing the reactions.
"Them getting that satisfaction of you having put all that you have in that meal for them, that's what really drives me," she said. "I like to visualize how I think my plate would look, … so I try to work with ingredients that give a different color, different texture, different shape on my plate."
Karani said she sought to challenge herself in the Chef of the Year competition, and she described the acclaim for her culinary artistry as "humbling."
"I know I've had such a long journey in my culinary world, and I still have I think I have a long way to go," she said. "When I heard I'd actually won, it assured me I'm on the right path [and] solidified my strong belief in myself and the students I was training."
The winning effort? A multicourse meal featuring seared red snapper, oysters and gnocchi. "Somehow, the judges loved it," she said with a smile.
By Amaani Lyle
-DoD News Features
VIDEO: Kenyan native named U.S Armed Forces chef of the year