A Kenyan woman Edith Mumbi is missing in Dubai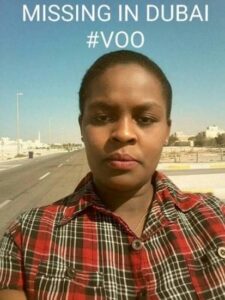 A Kenyan woman is reported missing in Dubai and there are fears that she has been kidnapped according to a posting by Nelson Mike Mithamo Muriuki in his social media page.Here below is the message.
 Her name is Edith Mumbi, a Kenyan working in Dubai. Unfortunately Edith is missing and the 1st hint is that she has been kidnapped as per the police report.
Been in touch with close family friends back in Kenya.She is from Ndenderu/Kiambu. Her parents are desperate and are pledging for help. If you know her whereabouts, please inform me right away as we pray for her safety. ‪#‎VOO‬