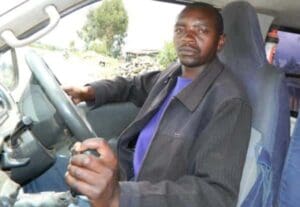 From Boda Boda Rider To Millionaire Mortuary Owner
The business of the dead is not the first thought in anyone's mind, yet it is very necessary in our society.
Selling coffins and providing hearses is as much as most people go. One guy in Nyahururu however wants to take it a step further by building a privately owned mortuary.
Yes, it's actually a thing.
We are accustomed to mortuaries being owned by county governments or hospitals or universities, but this is actually a very lucrative business.
Daniel Muchoki is 31 years old and already a millionaire. His story is the proverbial grass to grace, having started as a cook and then boda boda rider. And not today's version of boda boda. He started off with a bicycle boda boda.
Here is his story as told by Bizna.co.ke
---
"Growing up in the slums of Kia Maina, Nyahururu was not easy at all. The shanties were too congested and poorly built, just like the ones in Mukuru kwa Njenga, Reuben and Mathare. Dirt, human dung and garbage were almost everywhere. The atmosphere was filled with din and bustle from the slum's drinking dens. Incidences of theft, rape and even murder were not news in the slums. They were too common! It was not a place I was proud of. I desired a different and decent kind of life for my own, my parents and siblings. I wanted to live in an area I could proudly call home. And as my mother, Cecilia Nyawira, encouraged me; education was the key to that kind of life.
Therefore, I worked hard in school and dreamed big. I saw myself graduating from a prestigious university, getting an executive job, and ultimately evacuating my family from the suffering that was in the slums of Kia Maina. However, my dreams were shattered in 1997 after sitting for my KCPE at Kia Maina Primary School in Nyahururu. With a dismal performance of 350 points out of the possible 700, I could not get an admission at a decent school. The bee sting was my family's abject poverty.
My KCPE results had been with-held due to outstanding school fees: how would I get money for high school? I looked doomed. My future was dimmer than the slum's soot filled lamps. For the whole of 1998, I stayed at home pretty much idling about, hopelessly.
In 1999 though, I decided to get a hold of my seemingly broken future. My first step was to get some form of income. That same year in June, I was employed at Annex hotel in Nyahururu's CBD as a cook. I worked there for five years. Towards the end of 2003, I had saved about Sh. 10,000. By this time, I was living on my own, though still in Kia Maina slums. In 2004, I began to feel that time was ripe for me to make another step forward.
I could start out as a clothes' hawker or a fruit's vendor. But after much thought, I settled for boda boda riding. There were just a few cyclists in Nyahururu town, though it was well populated. Certainly, I would make something out of it. I withdrew Sh. 4,000 from my bank account and bought a bicycle for Sh. 2,500. I used the remaining one thousand to install a comfortable seat, re-paint the bicycle and write some customer-friendly graffiti on its mud-guard, and set aside Sh. 500 for any expenses that might incur unexpectedly.
For every ride within Nyahururu town, I would charge Sh.10. It seemed like a small amount, but I knew that what mattered was the day's total count. Sometimes I would take home Sh. 500 and in bad weather days, Sh. 200. In August 2004, I bought my second bicycle and employed my jobless neighbour as a rider. This worked out well and I began to make about Sh. 1,000 from the two bicycles.
However, despite the financial uplift I got, the job was too tiring. Gradually, it was eating into my health. I began to look for an alternative. In 2005, I left my bicycles under my brother, Paul Kimondo's care and relocated to Naivasha, where I got a job at Laiser Primary School as a cook. I worked there for two years and saved Sh. 25, 000.
In early 2008, I returned to Nyahururu with the aim of resuming my boda boda business. However, at this time, many other people had joined in the fray. So I had to be a cut above them. I consulted widely and sought advice from people who'd made it in business. They advised that I take a loan and buy a motorbike. I heeded, and it proved to be wise counsel. However, acquiring a bank loan was not easy.
I only had Sh. 25,000 in my account and needed Sh. 50,000 more to buy the motorbike. Worse, I did not have a suitable guarantor. Many of those I approached were afraid that I would default on payments. But at long last, I was able to get John Muritu, a former town mayor, as a guarantor and became the first boda boda motorbike rider in Nyahururu.
I attracted many customers as my motorbike was fast, efficient and more comfortable than bicycles. Moreover, I could transport goods to nearby towns like Ol Joro Orok, and Leshau. In one day, I made between Sh. 2,500 and Sh. 3,000. And with such earnings, I could meet my loan repayments and have something extra to save. In fact, it was while riding the motorbike that I bought a 50*100 plot of land for Sh. 50,000.
By 2003, three years later, more powerful motorbike models had come into the roads. Competition became stiff and since I could not join them, I opted to beat them. The best way to do so was to renovate myself and my job. It was time to move on from the boda boda business. I began to consult and seek opinion. I investigated all the possible, unexploited markets within Nyahururu that I could venture into.
Eventually, I came up with an answer: funeral services! There were virtually no hearse services in the town. Out of the Sh. 300,000 I'd saved in my account, I took Sh. 250,000 and bought a Nissan Matatu on loan, leaving a balance of Sh. 250,000. I refurbished the vehicle and converted it into a hearse vehicle. With Sh. 50,000 remaining, I opened a carpentry shop in Nyahururu town where I employed two carpenters to make coffins for sale.
The business picked up well, and within a few months, I was able to settle the remaining balance. Impressed by my determination to succeed, the man who'd sold me the Nissan advised me to sell it off and buy a bolder, powerful, new Nissan that was being sold off by St. Martin's Catholic Church. It was a good idea and I harkened. We held talks on how I would meet the Sh. 1.5 million price, and the church agreed to offer it to me on loan. However, mid last year, I suffered a set back when the vehicle's driver disappeared after going out for a funeral service. Luckily, the vehicle was on car-track, and we got it back after successfully tracking it. The sellers got heed of this misfortune, and as a precautionary measure, they added Sh. 500,000 on top of the initial price. Last year too, I started a coffins carpentry shop in the neighbouring Ol Kalou town.
The challenges for this new branch have been immense. I had a problem finding a suitable location. And when I found it, opposite Ol Kalou District Hospital, my competitors tried to kick me out by hiking the house rent. Eventually, they kicked me out. With no place to start out again, they were sure I was done. But God paved me a way. I got a shipment cargo booth that I converted into a carpentry shop. It is called Nyahururu Coffins, like its sister branch in Nyahururu.
My two hearse vehicles go under the tag name Nyahururu Funeral Services. I also provide my customers with tents and carriers, and occasionally rent out my vehicle as an ambulance where need be. These three businesses bring me about Sh. 190,000 per month and I am worth about Sh. 5 million. In all though, perhaps my greatest achievement has been to realize my dream of moving my family out of Kia Maina slums into a decent house, which I built on my plot. The plot also has rental houses.
Currently, I am planning to acquire about five acres of land and two more vehicles to set up a modern mortuary in Nyahururu. The estimations for that may amount to Sh.10 million. Certainly, I do not have that kind of money currently. But I also know that a few years back, I did not have the money I have now. A journey of a thousand miles always begins with one step."
Source-nairobiwire.com