I won't work with Uhuru Kenyatta – Kalonzo Musyoka
I won't work with Uhuru Kenyatta – Kalonzo Musyoka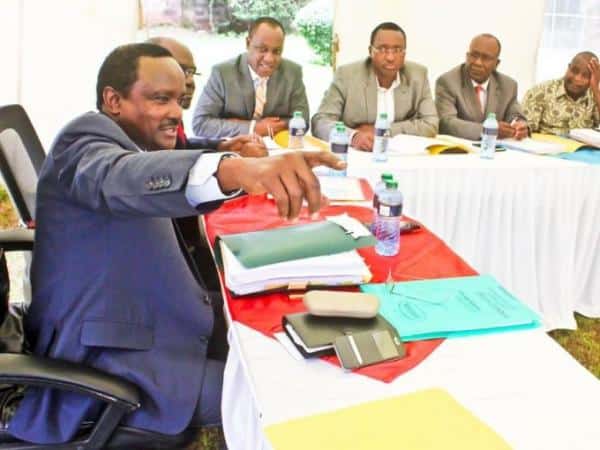 Wiper leader Kalonzo Musyoka yesterday declared that he will never work with the Jubilee administration of President Uhuru Kenyatta.
He accused Jubilee of  bribery and intimidation in its bid to force him to join the Jubilee coalition.
Kalonzo gave the exclusive interview to the Star yesterday after chaining a party National Executive Committee meeting at the Wiper headquarters in Kilimani.
"They desperately want me to join Jubilee but nothing is going to sway me to work with them. I am above bribery and no intimidation will change my stand," declared Kalonzo.
"I cannot sell my conscience to work with an administration that doesn't respect people's rights and believes in bribery and intimidation to remain in power. This government's days are numbered because Kenyans want transparency and accountability," stated the Cord co-principal.
Jubilee has been hosting delegations of leaders from Ukambani over the last three weeks to reach out to a region that voted for Cord leader Raila Odinga in the last presidential election.
President Uhuru Kenyatta is due to visit Kitui on May 19 to commission various projects. Kalonzo said he would be there to welcome Uhuru to Kitui and remind him that it is a Cord zone.
"Instead of the Jubilee administration working hard to improve the lives of Kenyans, as promised in the manifesto, they are putting energy and resources into breaking the opposition. Just tell them they have failed and they should put their house in order to serve Kenyans," said Kalonzo.
Kalonzo said that Wiper politicians asking him to ditch Cord leader Raila Odinga and co-principal Moses Wetang'ula are dishonest.
"In public they pretend to support me by attacking my relationship with Raila but  they are doing that in support of a corrupt Jubilee regime which has given them money," said Kalonzo.
He was presumably referring Machakos Governor Alfred Mutua, Mwingi Central MP Joe Mutambu, Mbooni MP Kisoi Munyau, Kitui South MP Rachael Nyamai, Mwingi North MP John Munuve and Kilome MP Regina Ndambuki. They held a press conference on Tuesday asking Kalonzo to ditch Raila for saying that an MoU signed between Wiper and ODM in 2012 had lapsed.
The former Vice President added that he feared for his life following the withdrawal of his security detail last week's demo at the IEBC. He claimed it was an attempt to force him to join Jubilee.
"They were targeting me during the demonstrations but I will continue fighting for our rights as Kenyans and support issues intended to change and empower people's rights," said Kalonzo.
He said one of his bodyguards, Luke Keitany, was summoned by Inspector General Joseph Boinet and threatened with disciplinary action.
Keitany accompanied the Wiper leader during the demonstrations to force the IEBC commissioners out of office.
"Some people are saying I was not at Anniversary Towers during the demonstrations and yet the police were targeting me. Keitany did his job well to protect me after the officers wanted to hit me," said Kalonzo.
Kalonzo asked the Inspector General and Interior Cabinet Secretary Joseph Nkaissery to stop interfering with the police.
Raila agreed to go for one term as president and to then back Kalonzo in 2017 if  won the elections, according to the MoU.
"When you hear me, the Secretary General, and the Chairman speak, then know it is the party's position. The spirit of the MoU was for each principal have a fair go. It will be part of broader negotiations to be put on the table for every principal to go for one term," said Omar.
Makueni senator Mutula Kilonzo added that the ODM and Wiper coalition agreement to form Cord will end three months before the next election in August 2017. He said the party was looking forward to another long-term engagement with ODM in the Cord coalition.
"The only organ that has not met our expectations, which we cannot disclose, is the Coalition Management Board," said Kilonzo Junior.
Kilonzo said Raila and Kalonzo were working closely together to ensure Cord wins the coming elections.
"If there was a person who should complain is Kalonzo Musyoka," said Kilonzo.
"The three ( Wiper) rebels have openly shown that they owe allegiance elsewhere," said Kilonzo.
Kilonzo said the coalition leaders privy to the truth have remained silent and concentrated on their duties.
"Those members have no right to speak on behalf of the party. Wiper is not moved by pronouncements by the three," said Kilonzo.
Kilonzo said the coalition agreement has protocols for dealing with disputes.
"Okoa Kenya would have turned out better if the Coalition Management Board had handled activities well," said Kilonzo.
I won't work with Uhuru Kenyatta – Kalonzo Musyoka